Posted by
Geoff
May 27, 2008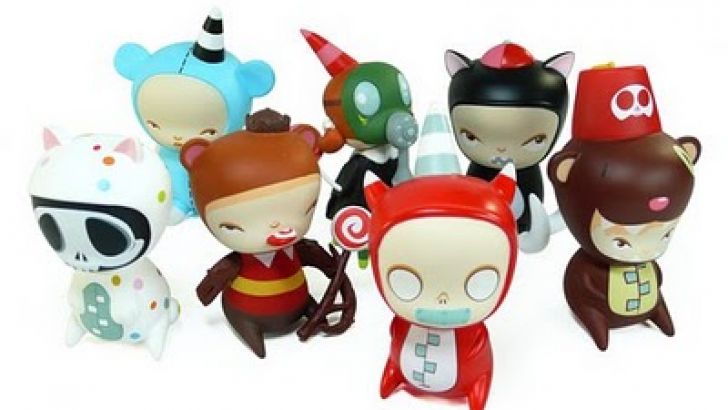 (L-R): Masao, Winston, Beaumont, Chase, Dexter, Aubrie, Nigel
Clutter got up close and personal with these beauties at NYC Comic Con and they look great in the flesh - super job by Kathie and MINDstyle on these for her first se
(L-R): Masao, Winston, Beaumont, Chase, Dexter, Aubrie, Nigel
Clutter got up close and personal with these beauties at NYC Comic Con and they look great in the flesh - super job by Kathie and MINDstyle on these for her first series of blind boxed toys. I say first as a second wave of designs are likely to see the light of day before the end of '08!
Each of the six regular figures - Masao, Winston, Beaumont, Dexter, Aubrie, Nigel - have a run of under 2000 pieces. A chase figure of just 300 (the gas mask in the pic above) is also randomly inserted into cases....gonna be a toughie to score for sure! There's also going to be a series of US store exclusives limited to 200 or less.
To make things even better these blind boxes comes in a flip-top magnetic latch box complete with slip cover with a designed cby Kathie and Rob Schwager. The store display also looks pretty damn nice!
Similar posts
Monday, November 16, 2015 - 12:11pm

We are excited to announce our latest partnership with the amazingly talented Jenn and Tony Bot!!

Friday, October 30, 2015 - 12:04pm

Just in time for Halloween comes a Kickstarter campaign for a spooky stop-motion film, Calliope, that brings together all-star creators from the world of designer toys (