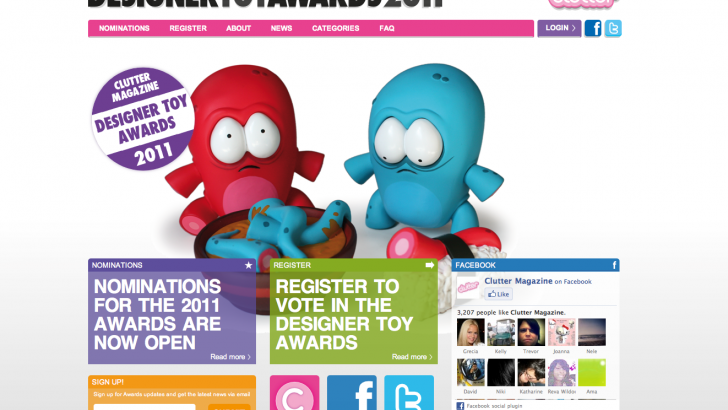 YES!! you read correctly... Clutter Magazine is very excited to announce the first annual International Designer Toy Awards (DTA) - Hosted in San Diego, California at the SDCC 2011!!!
The Designer Toy Awards celebrates the creativity, innovation and artistic excellence in the Art Toy market, which after more than a decade has not only become a prominent and legitimate form of artistic and commercial expression, it is one of the leaders in global trendsetting. This award ceremony will celebrate the best of the industry's artists, designers, customizers and manufacturers, as well as honoring those involved in championing Art Toys throughout the world.
The awards will have two components. First, a carefully selected board of professional artists, producers and impresarios will choose a group of nominees from the many designs released over the past year.
And secondly, there are an entire group of awards chosen by YOU! Yes that's right, The DTA PUBLIC awards feature special categories that are open to the general public for popular voting.
The site went live today at www.designertoyawards.com so go over there and register and start filling up those categories with all of your lovely nominations. Feel free to nominate yourself, your friends, or just things and people you love.
Nominations are open to everyone. Nominations will only be accepted for toys/events that were released between March 2009 and February 2011.
More news on Party Host, and Award Designer soon!!!
Similar posts
Tuesday, April 25, 2017 - 11:09pm

Are you ready to get voting? It's your time to choose your favorites of 2016!!

Monday, March 27, 2017 - 1:15pm

The Designer Toy Awards have now officially launched the nomination period for the 7th annual awards!