Posted by
Nick
June 20, 2011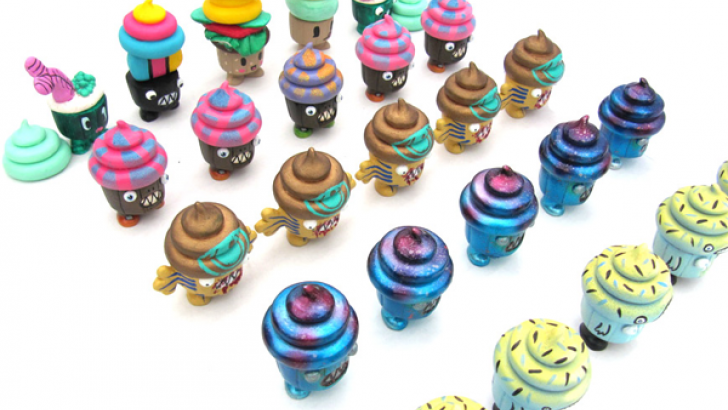 Rampage Toys and Tenacious Toys have got together to bring us this Mini Kaiju Cupcake Blind Box Custom Series. That title is quite the mouthful, as are the toys! (i'm so funny). The series features five artists who have customised 5  2" mini Kaiju Cupcakes cast by Rampage Toys.
Featured in the series are Jon Malmstedt (of Rampage Toys), Justin Hillgrove (Imps & Monsters), NREAZON, Nasty Neil (Wasted Talent) and Osiris Orion. So that's 5 customs by 5 artists so in total there's 25 custom figures to be snagged, Released this Wednesday 22nd of June, 2010 for $35 a pop. Golden ticket winner gets an original 5 x 7" painting by Jon Malmstedt.
Admittedly not my cup of tea, or piece of cake for that matter, but the series looks pretty cool and lovingly self produced between artists and we love to see that kind of desire to produce here at Clutter.
rampage-toys.blogspot.com

www.tenacioustoys.com

www.funhousewares.com
Similar posts
Friday, May 12, 2017 - 9:41am

Clutter Gallery is proud to announce It Sees All, a solo show by Yu Maeda!!

Tuesday, April 4, 2017 - 12:49pm

Clutter Gallery is excited to announce Return of Rampage! A solo show from Rampage Toys!  The opening reception will be free to the public and take place on April 8th from 6-9pm.