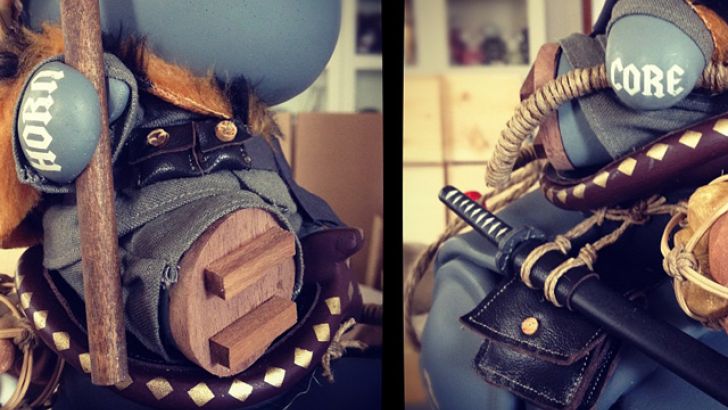 Huck Gee has released images of a new custom he's done, entitled "The Jungle Poacher." Based largely on his previously made piece "The Rhino Poacher" for the Huck Gee Project, this revision seems every bit as impressive.
The rider will be familiar to Gee fans, the character known as Hicks who has gone through various incarnations over the years. Traditionally he's built off of a 7" Bub Munny figure and that certainly appears to be the case here. His accessories are stellar, from the spear he's holding and the wicker helmet on his head to his cloth suit and pelt cape. The rhino is an original sculpt by Gee, which is just as flawless as a production model.
The traditional bird that rides upon Hicks's head now resides ontop of the steed, a rhino that looks none-too-happy. Probably because his horn has been cut off by his rider, a true poacher that will do anything for a simple dollar. Some have remarked that this is the first piece of social commentary by Gee in his works and — while they might be right — it is still a brilliantly twisted concept that anyone can appreciated.
That's a bundle of rhino horns you can see strapped behind the saddle, as well as a banner flag and sword. My favorite element, though, are the knuckle tattoos which read "Horn Core." This roughly 20" tall custom was a commissioned one-off, so — alas — we will just have to make do with looking at the pictures.
Similar posts
Thursday, November 10, 2016 - 5:49pm

Tickets to the inaugural Five Points Festival are available now on the just-launched full fivepointsfest.com!

Thursday, August 25, 2016 - 4:11pm

JPK is bringing plenty of goodness to STGCC early next month, and among his customs is a mass produced platform toy. This is actually a series of toys produced by Pobber, who you probably recognize for creating the amazing Autumn Stag toy shelf unit.