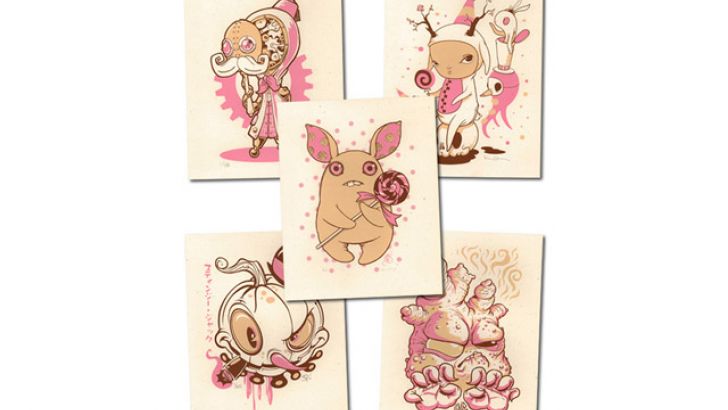 You may recall not that long ago we discussed the upcoming Monsters & Misfits II group show in Japan and the Circus Posterus online fundraiser that would accompany it. It appears that the stars have aligned and the time is right for the latter, for at 5PM EST today (April 3rd) the 2012 Monsters And Misftis II Fundraiser sale launches. As promised in our previous post, there will be "Mini Skelve: Honey Edition" 4.5-inch-tall hand-painted cast resin figures, limited to 100 copies (12 of which will be the randomly inserted chase variants) each signed & numbered by Kathie Olivas & Brandt Peters, for the price of $60 each. Also available will be the Chris Ryniak designed "Crumbeater T-Shirt" for $22 each and a surprise "Monsters and Misfits II 3 Figure Mini Sweets Set," which is a collection of three hand-painted in candy orange resin beasties limited to 66 signed & numbered copies for $135 (the pieces are Ryniak's Mini Bubblegut, Mini Crumbeater, and Olivas's Mini Masao Skelve).
In addition, the long awaited release of the series of five screenprints from the Monsters & Misftis II artists is upon us! Each 8" x 10" screenprint is signed by the corresponding artists and limited to a mere 125 copies, retailing for $30 each or $125 for the complete set. Pictured below are all of the prints in their fully unveiled glory: Doktor A, Kathie Olivas, Brandt Peters, Chris Ryniak, and Amanda Louise Spayd.
Similar posts
Tuesday, July 19, 2016 - 4:25pm

I'm a sucker for all things blue, but if it's cute AND blue I'm done!

Tuesday, June 21, 2016 - 2:38pm

Just a week after teasing a new colorway of Brandt Peters' Night King, Kidrobot have dropped the creepy, cartoony vinyl on their web shop.