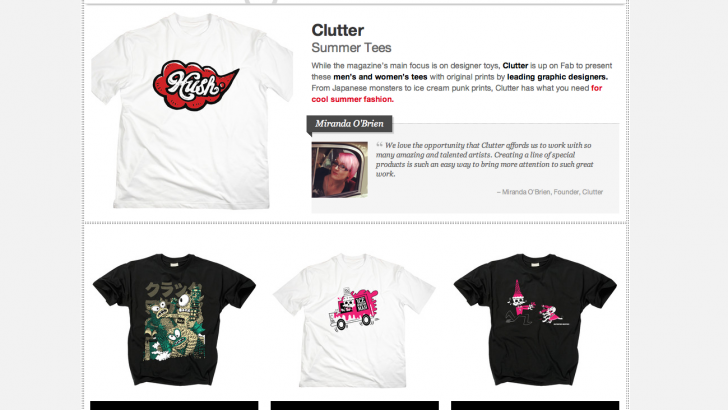 Only Monday we were blogging about Michael Michael Motorcycles Fab sale, and now we're blogging about our very own curated T-Shirt sale whoop whoop, we got Fab covered!! Incase you missed that earlier blog post Fab is a flash sale website dedicated to getting awesome art and design to the masses as a reduced cost. It's great for artists and collectors a-like. 
For the next couple of days we have T-shirt designs available from Pete Fowler, Michael Michael Motorcycle, Jeff Lamm and Brutherford Industries,
We have a mixture of designs for men and women on both black and white shirts, all locally screen printed.
A heads up on some designs... What's really cool is we had the opportunity to use some amazing printing methods, so some of the T-shirt's (for example this MMM shirt below) are discharge printed. What this means is there is no ink or sweat patch on this shirts, the color is literally stripped out of the cloth, making them super wearable. These images look a little a yellow, but they are more of a neutral cotton color (more beige). Very Awesome!! The other cool thing about this technique is you never get the black cotton strand show through, which makes prints look like they are cracking or fading. A winner all round! 
Get on over to Fab and place your orders now!!! 
- Michael Michael Motorcycle 
- Jeff Lamm
- Michael Michael Motorcycle 
- Brutherford Industries
- Pete Fowler
- Michael Michael Motorcycle 
- Brutherford Industries
Similar posts
Monday, November 16, 2015 - 12:11pm

We are excited to announce our latest partnership with the amazingly talented Jenn and Tony Bot!!

Wednesday, October 7, 2015 - 1:00pm

In addition to all the previously announced exclusives we'll have at New York Comic Con 2015, we have a bunch of additional ones… JOSH MAYHEM