Posted by
Erica
May 04, 2012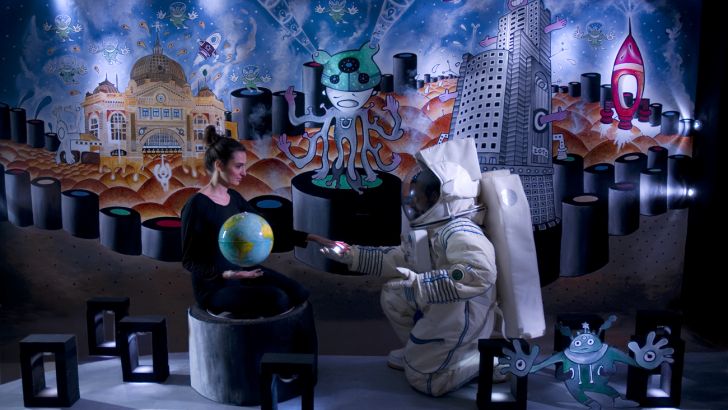 Check out this awesome stop motion video of Luca Loiudice's performance constructing the scenorgraphy for his work of art, The Spaceman.
"The scenography is composed by a background wall, size 5m x 2,50 m, painted with some thin paintbrushes, and the same for the floor. The other stage elements are: the suspended globe and the hand-painted UFO on cardboard below on the right. As regards the small squared buildings, they are made with four bricks black painted as well for the happening. Concerning the enlightment: we used the same kind of sources  consistent to one led bar, lightening from the left side of the picture, and  thirty-five small light points. Some of them positioned on a pipe on the wall's top, one by one inside the squared bricks made buildings and a group of ten placed on a wooden panel to enlight the two subjects. "
Final photo: Alberto Gubernati.
Video: Stefano Scuderi.
Model: Elena Morini.
The spaceman: Luca Loiudice.
Length of the project: 93 full days.
Video length: 3:46 min.
Place: Torino, Italy
Similar posts
Friday, May 2, 2014 - 12:25pm

There is no doubt that Fang Ling Lee is what you would call an "erotic" artist.

Tuesday, December 10, 2013 - 1:54pm

Ok, so I havent actually seen this movie yet, but I'm super excited about it.  It's art, it's HARDCORE nerdy and I want to live inside of whatever universe allowed this movie to get made.

Tuesday, August 20, 2013 - 6:00pm

Ardabus Rubber is excited to announce the launch of brand new apparel and limited edition fine art prints. 2 new Silkscreened Tshirt designs, made with American Apparel shirts, are limited to 100pcs each. Preorders come with new vinyl sticker and print packs with matching designs.