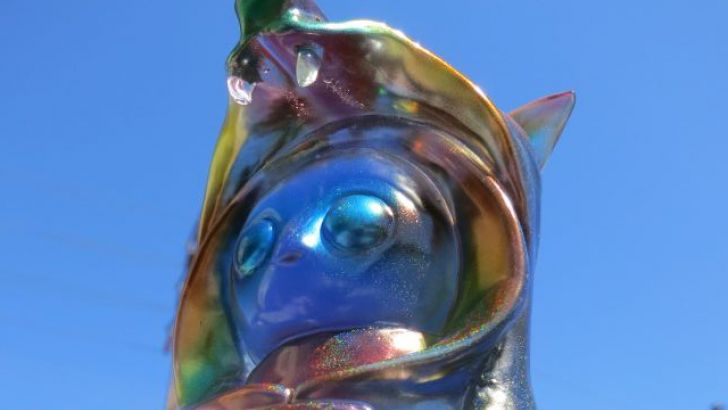 If you are currently scratching your head and wondering "What's a WolfGirl?" then shame on you… this platform, designed by Shea Brittain, was easily one of the biggest break-out designs of the last year. First introduced at DesignerCon 2011, this resin cast 7-inch-tall figure is currently up for several 2012 Designer Toy Awards, including Fan Favorite and Toy of the Year as well as garnering Brittain herself an entry for Break-through Artist. The design lulls you in with a simplistic form before you realize the intricate details that make it magnificent; a 'fractured fairytale' version of Little Red Riding Hood in which our heroine has bested the beast and now snuggly wears his pelt as a prize.
The very first versions — now known as Classics — were completely hand-cast and painted by Brittain, with real English black glass eyes, but the current incarnations (WolfGirl 2.0) was produced for Brittain by MANA Studios. Of late Brittain has been producing a wonderful series of "Artist Special" one-off hand-painted versions of the figure, which appear to be selling to her fanbase on a first come, first serve basis through her Twitter account: she posts images of her newest completed piece and the first interested buyer to contact her has layed claim. While a variety of the unpainted or spot painted versions are still available from both Brittain's own FrankenFactory online shop and the Toy Art Gallery store, it is these Artist Specials that are sure to become highly desired as the demand for WolfGirl continues to grow.
The recently seen — and most likely already spoken for — incarnations of her creation include the below pictured "Soft Lady Colors WolfGirl," which beautifully accentuates the clear resin base through lush blending of purples and pinks. The spot whites and blacks really pop off of the form, giving such a brilliant contrast.
The "Tie Dye WolfGirl," on the other hand, employs the same lustrous airbrush washes in a rainbow array of colors.
While the "Color Changing WolfGirl" utilizes the coveted and highly-desirable Monster Kolor color changing airbrush paint over an intricately detailed array of sprays to make for a truly fantastic looking piece… which, as the name implies, changes coloration depending on how light hits it.
And, finally, there's the wonderful "Tiger(Wolf)Girl" piece, for which the wolf pelt was painted to perfectly resemble that of a tiger.
What will the next version Shea Brittain does for this "Artist Specials" series look like and will you be quick (or lucky) enough to claim it for your collection?
Similar posts
Tuesday, November 17, 2015 - 4:04pm

The fantastical realm of Codexia is rife with majik, its inhabitants seekers of knowledge and enlightenment.

Thursday, October 15, 2015 - 10:54pm

Parra's glossy, colorful style is unmistakable. His latest release is a resin piece through Case Studyo, who have also worked with FriendsWithYou. The fruit with legs measures in at 25cm and that lacquered look comes courteousy of thick coats of automotive paint.