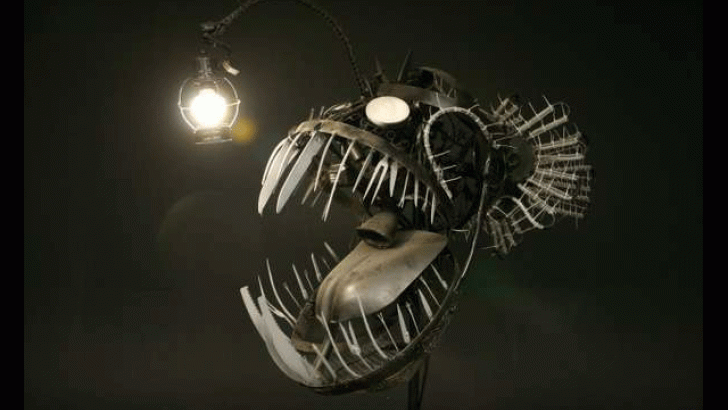 This scary yet energy efficient "Deep Sea Angler Fish" lighted sculpture is amazing. As well as being energy efficient, the sculpture is also composed of recycled objects such as bicycle parts, shovels and knives. Scary AND green! When you first see the Angler Fish the light above the head is glowing. Just like in real life, the light draws you near. As you move in to take a closer look, the eyes & body light up using a motion censored light. This sculpture stands 5' tall with base, 4' wide & 5' long. "Deep Sea Angler" takes up a large amout of space so it can creep you out as much as possible. Justin Ladoux is the artist who created  ''Deep Sea Angler Fish'' for a larger piece called "Creatures of the Deep".  
Similar posts
Tuesday, August 23, 2016 - 4:55pm

Want to get a behind-the-scenes look at large scale fine art production?

Tuesday, April 26, 2016 - 4:30pm

Do metal birds dream of electric worms? Edouard Moartinet's streamlined, metallic animals are straight out of a future where fake animals are more prominent than real ones. He uses reclaimed parts from bikes, cars, and motorcycles to build the faux fauna. The best part?