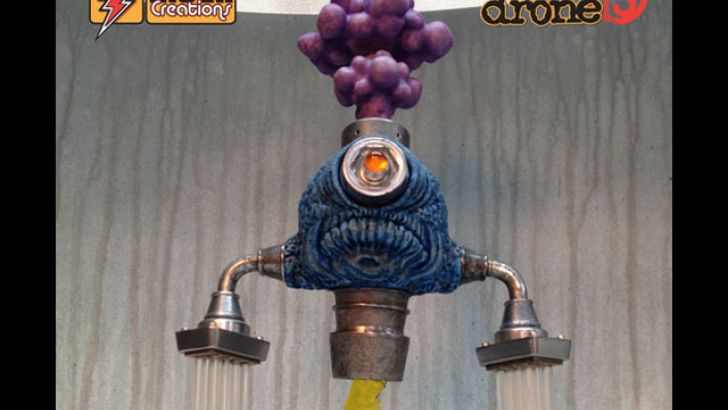 Wow! The cropped headline photo doesn't do this custom Munny from Riser any justice. Riser's well-honed professional prop building skills (he creates props for TV & films) really come through in this unique piece hes named Storm Drone 13. Riser obviously devoted many hours to sculpting, machining, sanding, molding and painting this custom and one can easily see it was a labor of love - with fantastic results!  Due to a heavy schedule we haven't heard much from Riser in the past but he's followed the designer toy scene for years and now promises "to step up my game and contribute more in 2013". Lets hope he keeps his word! I can't wait to see more from this amazing newcomer!  
Similar posts
Wednesday, February 15, 2017 - 6:00pm

Bogologists around the world are clamoring to get their hands on this newly discovered creature! 

Thursday, November 17, 2016 - 3:14pm

Ryan Brunty will be premiering his Yerman sculpture at DCON this weekend through Depressed Monsters' booth (#1819). Sculpted by Wetworks, the 6 inch figure is hand-painted and comes with a bandaged heart accessory. If you can't make it to DCON, don't worry too much.

Thursday, November 10, 2016 - 5:36pm

Kidrobot have been doing a great job of bringing OG toy designers back into their fold. Following up releases from Nathan Jurevicius, Junko Mizuno, and more is a new piece by Joe Ledbetter called Pelican't. This poor guy has a beak more like a strainer than a bucket.