Posted by
Geoff
July 26, 2007
I was so excited when the original colourway of Posessed came out. The sculpt is beautiful and the devil really is in the detail! But this SDCC mono version? A mono devil and black...errr....goo, oil who knows.
But it's a weak colourway and just seems incredibly lazy. Maybe i'm not giving them enough credit and it is, in fact, a comment on Iraqi and rather than blood on Posessed's hands it's oil.
Yeah...that's what I was thinking too...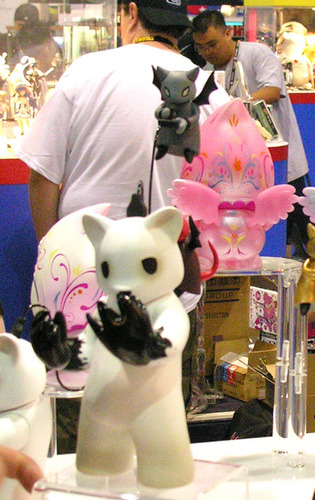 Similar posts
Tuesday, May 16, 2017 - 5:02pm

We are excited to drop our latest collaboration with Luke Chueh – The Dissected Bear Head; Black & Bone edition!

Tuesday, April 4, 2017 - 3:02pm

Clutter Magazine is proud to announce our latest collaboration with Milwaukee-based artist Scott Wilkowski and LA native artist Luke Chueh!