Posted by
Miranda
November 30, 2010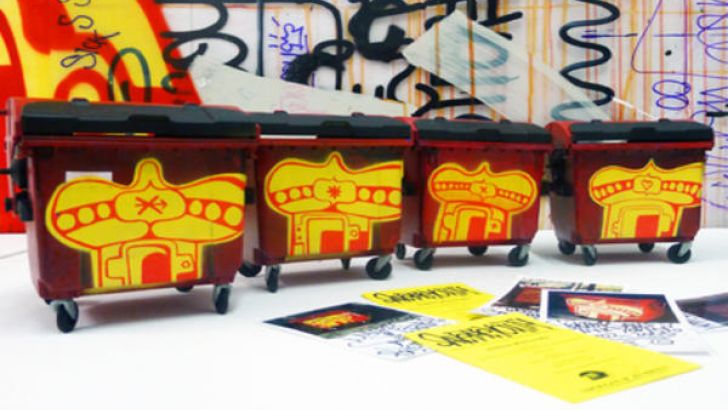 For all your street art fans out there, Sickboy has announced the release of a limited edition collection of original, hand-painted replicas of his most iconic street work — the wheelie bin (or dumpster for our American readers).  Based on a decade's worth of the artist's street activities, each replica model is an exact reproduction of the original work as it appeared on real wheelie bins worldwide. Produced in red and bearing the artist's signature Temple logo in McDonald's colours, these replicas offer a rare chance to own a piece of Sickboy's street art history. Produced in a highly-collectable run of 20, each boxed wheelie bin has been individually hand-painted by Sickboy and is presented with a signed and dated photo-print of its on-street counterpart.
They seem a little on the pricey side for most people, but the detail and workmanship looks like it has been created to a high standard, so i hope that in the flesh they live up to their price tag. 
Sickboy said: "Wheelie bins are my favourite surface to paint on. The shape of the temple fits perfectly, and the classic red issue colour of the bins was like a gift from above. Trying to paint something pretty on a vestibule for public waste was what drove the obsession. Over the years I have amassed an interesting collection of photographic documentation of my wheelie bin work, and the best of these have been revisited for this project."
Price: £125.00 + P&P, Pre-order below now. Please allow up to 28 days from the December 7, 2010 release date to receive your goods.
SPECIFICATION:
Each box contains an individually hand-painted Sickboy wheelie bin with working lid, flap and wheels, plus a signed photo-print and
embossed COA
Edition: 20
Size: H19.5 x W16 x D12cm
Year: 2010
Authenticity: Signed & Numbered by the artist
Similar posts
Tuesday, March 29, 2016 - 10:18am

Do you prefer your toys on the darker, more macabre side? Then this one might just be for you!

Thursday, August 9, 2012 - 12:41pm

Sickboy has released"Inside My Head" a new, colorful, detailed print that is based on the original shown in his first solo show in the US. "Inside My Head" has a run of 60 signed & numbered prints with Sickboy's embossed logo.