Posted by
Devin
February 02, 2011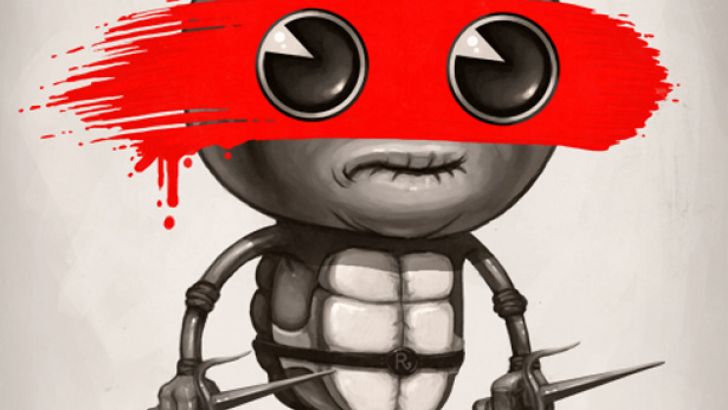 I don't really like the idea of L.A. but I've never wanted to be there more than now. This "gag me with a toon" gallery show looks amazing! An all star line up of artists reinterpreting our cereal-frenzied childhood idols is making me crave those cocoa frosted sugar bombs all over again. I absolutly adore the raphael featured above and check out Alex Pardees' twisted Voltron.
Weird/cool right! Ok so if you are in L.A. for the show (I hate you) then be sure to visit Melt Gallery in Hollywood, On Friday February 4th(7-11:30 pm). Check out this line up of artists! 
Works by: Adam Hathorn, Alex Pardee, Antonio Canobbio, Bex, Brent Nolasco, buff monster, Carlos Ramos, Chris Gliebe, Chris Prynoski, Craig Edmonds, Dan Quintana, Daniel Elson, Daniel Galvez, Dave Correia, Deph, Florian Graf, Forrest Card, Gosha Levochkin, Gustavo Alberto Garcia Vaca, Hannah Josepher, HeZaa, Holly Payne, J R Goldberg, Jason Gallo, Jeff McMillan, Jeffery Page, Jessicka Addams, Jhonen Vasquez, jim mahfood, John Chase, Johnny Vam Potna, Jon Schnepp, Jonathan Way$hak, Justin Bloomer, Justin Schaefer, Kevin Peterson, Les Schettkoe, Mac N. Zie, Mark Bodnar, Matt Taylor, Maxx 242, Maya Peterpaul, Menso, Mike Clem, Mike Kelley, Mike Kendrick, Mike Mitchell, nathan hamill, Robert Bowen, Roman Dirge, Scott Gordon, Shannon PRYNOSKI, Steven Daily, Suzy Hutchinson, The Chung, Tomi Monstre, Tommy Blacha, Travis Louie, Vyal Reyes, And More……….. !
So awesome. On that note, which artist would you like to see redo a character of Saturday morning fame?
My vote is the ninja turtles' villain Krang by H.R. Geiger!
Similar posts
Friday, October 14, 2016 - 2:01pm

I don't often venture outside of The Block. But when I do, I make my way to Bandai's booth.

Thursday, October 13, 2016 - 1:46pm

While Toy Tokyo mostly clogged The Block with lines for the latest cookie cutter Fuko Pop! figure, they did at least bring four amazing pieces to NYCC.