Posted by
Devin
March 20, 2011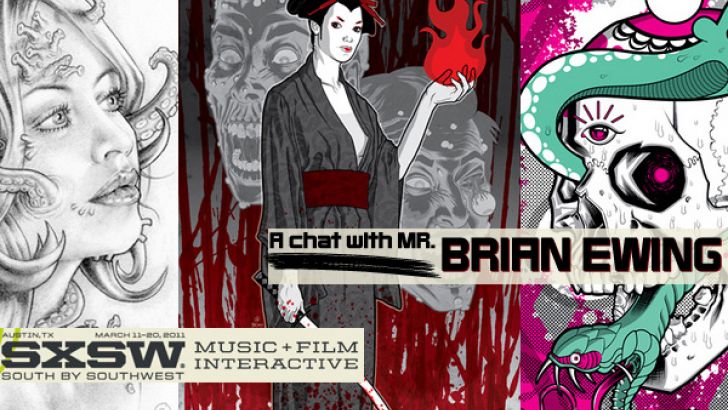 I had the pleasure of meeting with Mr. Brian Ewing, who was appearing at the SXSW Flatstock show the last few days. Brian was just amazingly great to talk to and really seemed like the coolest, most informative, and nicest guy ever. He also dropped some hints on me about a upcoming toy release. I'm really excited and can't wait to see it. I was also just extremly excited to be interviewing one of my favorite artists working today.Ok enough geeking out. Interview time start now!
Enjoying sxsw?
Yes.. (pause) I'm just gonna do the whole interview in yes or no questions.
Have any projects coming up your excited about?
Besides Sleeping? (laughter) There's a lot of stuff I can't really mention but let's just say I'm talking to a company called sideshowtoys about something. And were going to get started in a couple weeks.
Doing a lot of art prints, and I started painting again which I'm amped about. I'm going to be in a couple of group shows in the next coming months. Tara McPhereson's Cotton Candy Machine, the Tiny Trifecta show, and I'm doing a rock poster show there as well. In June at Toy Tokyo, I'm doing a group show, Sal Canzonieri from Electric Frankenstein and the guys from royal flush magazine are putting it together.
I've often wondered why there isn't toys of your work?
Dude, it's impossible. The thing is everybody, all they do is look at the Munny or Dunny and just try and change it 10 percent. I really respect Tristan Eaton and I think what he did was awesome but it must kill him. To see all the crap out there now. he created this market and now its just gone off. I've talked to so many people and their interested but they just get distracted by something else and its tough y'know. Talking to Tara McPhereson she said, you really need to do a toy because, when you do a book tour its a good way to tap into the toy market and cross-pollinate those two genres and do really well with that. but it's tough, its a lot of who you know. It can also be tough to simplify your art to work as a toy.
Any toys your into right now?
Everything sideshow has sent me has been great. They hooked me up with a Creature from the Black Lagoon 1:1 bust. That thing is awesome! They also gave me a 1/6th scale Frankenstein. The Creature bust is so retardidly cool. If I had a piano,It would be funny to have it like the Beethoven bust on top of the piano. (laughs)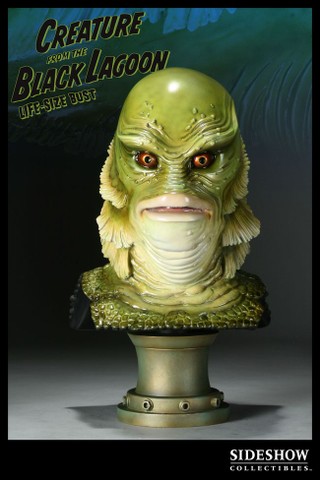 Have a favorite project or nightmare project?
I'm glad to get out of the porn industry (laughs) I hated it. It's like working at dunkin' donuts, I could never eat another donut again. That would kill me cause I like dunkin.
So you can't look at porn anymore?(laughs)
Oh no i can look at porn its just, one of those things. You get to see everything before it's cleaned up. before it's edited and it's not pretty. The funny thing is the building I worked at had one fax machine for the whole company. And we used to get the test results for the actors mixed in with the faxes we would need. So you always knew what was going on. Disgusting (laughs)
Dream project?
I was really happy to do the book. The publisher offered to lay it out for me but I said no I wanna learn how to do that. So i downloaded a tutorial on inDesign and just went for it. I had them check it and it all went great. So I'm really happy with that. They told me not to include the sketches but I went ahead and did it anyway. It was one of those thing's I always wanted to see, growing up, other artist's process. That it didn't just come out perfect. It motivates you as an artist to know they had to make a lot of changes to make it what it needs to be.
Favorite Location?
As much as people hate L.A. I liked it. Probably because I didn't get caught up in all the L.A. bullshit. And I liked visiting New York, so I'm really happy to be living there now.
Favorite Beer or Mixed drink?
Well I'm from Milwaukee, So I hate Pabst Blue Ribbon. Because you see all these assholes in Brooklyn paying 9 bucks a can but its a dollar in Milwaukee. I like Chimay, and after the warped tour, I got really into Jameson. Because that was like next to water for those guys and I like Maker's Mark. I'm not too picky.
Any tips for screen printing?
I don't do it professionally, but basically my advice is take a class. So at least you know how to talk to a printer. That way you don't waste your time and don't waste their time. There's so much you can do from that, your vocabulary expands. You understand, overprinting, trapping, mattes and mediums, varnish and water-based. Whatever you do be nerd, and learn as much as you can. There's so much information out there and its impossible to not learn about it.
I do all my work by hand, then scan it, and lay it out in illustrator. Then i do all my separations in photoshop. And I set up all my colors and trapping and give the Printer my file. He's happy because, normally he has to do all that himself. And I'm happy because he's happy and he's a lot more open for me to try out stuff.
Final advice?
Be a nerd. Try to learn as much as you can. Having any kind of sense of art history helps. Whatever you think your doing is brand new, it's not. Or whatever artist your into that you think is influential, read interviews about them and listen to what artist's influenced them. Hopefully they have influences outside of their niche. When i was a kid I would read interviews about comic artists and they would talk about fine artists. Like Alphonse Much a or Gustav Climate. When your 13 you don't know anything about these people but by reading these interviews I found out about them and it influenced me. It's good to to go to the source.
Be sure to check out more of Brian's work @ brianewing.com
Similar posts
Thursday, February 21, 2013 - 4:14pm

Healymade x Buff Monster are getting ready to drop Purple Glitter Sue tomorrow, February 22, at 10AM EST!

Friday, June 8, 2012 - 9:55am

You may recall us informating you, in the form of teaser, about the 2012 San Diego Comic-Con (SDCC) exclusives from Kidrobot this