Posted by
Devin
March 18, 2011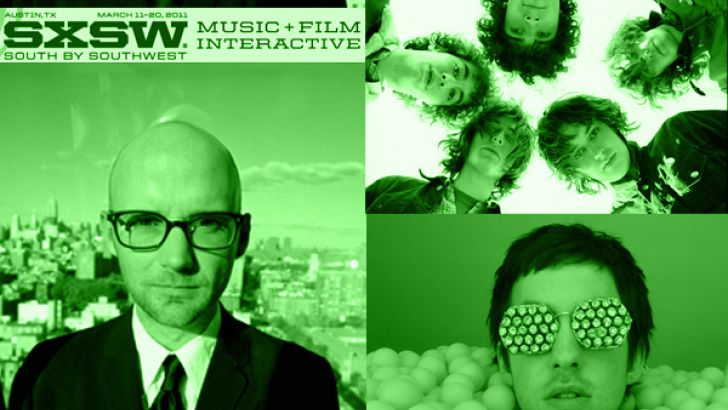 Music is in full swing now! Tonight was a whirlwind of good music and St. Patricks day antics!
I started the night off with a huge party at Auditorium Shores In Austin with some live but barely visible rocking out by The Strokes. The show was good but not worth the trouble of wading through thousands of people to see the ants on stage. At least it was audible and sounded great. The best thing was probably the free monster drinks i kept getting to get me through the rest of the night.
Next was Calvin Harris! I'm a big Calvin Harris Fan so this was a must see for me. So after a long walk back to 6th I was immediately ushered in to the Parish. Again i was let right through because of the badge while a line of kids watched achingly. The bass was already thumping when i hit the floor and the room was packed. When Calvin arrived I wasn't sure what to expect as far as his set. I was not dis sa pointed! It was a beautiful culmination of the thickest, hardest bass you can stomach and remixes of bassier versions of some of his most recent hits. I was in bass head heaven.
Finally I sauntered over to catch Moby supposedly doing and ambient set. I figured this would be a great way to wind down the night. Walked right through the door and within five minutes i was a couple feet from Moby setting up for his set. Perfect. Drink in hand i was ready to let things chill. But moby's set was anything but ambient. It was a deep, heavy house, that kept you moving with great melodies and soulful overlays. And of course pumping that bass. Needless to say it was another great night for sxsw and I'm exhausted.
I shuffled back through the crowds of green people. 6th street was packed and everywhere i looked there was either a small band playing in the street, a strange street performer, or some kind of drunken skirmish. Downtown can really be out of hand sometimes. I mean look at these drunk hula hooping girls...wtf?
Similar posts
Friday, March 15, 2013 - 5:33pm

NY brand FLüD teamed up with artist Tristan Eaton and Teenage Mutant Ninja Turtles for a co

Monday, March 11, 2013 - 9:26pm

My old friend Ellis lives in Austin, Texas and I'd say he's a little jaded about the SXSW festival at this point. That's why I was so suprised to find out that he willingly spent three hours in line - in the rain - to meet none other than the Grumpy Cat herself, Tard.