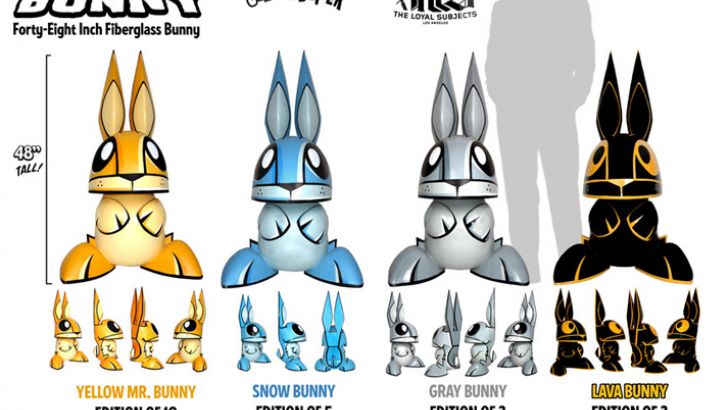 Everyone needs giant toys in their life, that's just a fact. In the complete flip side to the mini series which adorn all collectors shelves, and have extensively grown in numbers over the past few years, Joe Ledbetter and the Loyal Subjects collaborate to produce this giant 48" tall Colossus Bunny. Produced in fiberglass, standing 4ft tall, Mr. Bunny comes in 4 different colors – classic Mr. Bunny (10 pieces), Snow Bunny (Highland Toys exclusive, 5 pieces), Gray Bunny (3D Retro exclusive, 3 pieces), and Lava Bunny(Tomenosuke exclusive, 3 pieces).  The classic yellow 'Mr. Bunny' edition will be available for order from Kidrobot, 3D Retro, Tomenosuke, Highland Toys and Toy Art Gallery).
For me this sculpt lacks some of the finesse of the 8" Mr Bunnies produced by Wheaty Wheat, but having said that some of this I'm sure is down to balance of such a large piece. The ears seem a little short and the body a little more rotund - but again I'm going by images so this could be considerably different in the flesh.
The price... wait for it... starts at $4,000 depending on the edition and retailer. Obviously pricing this at the more "high end" collector. But hey if you can spare $4,000 on this piece then i really applaud you... I'm just jealous!!
Similar posts
Thursday, November 10, 2016 - 5:36pm

Kidrobot have been doing a great job of bringing OG toy designers back into their fold. Following up releases from Nathan Jurevicius, Junko Mizuno, and more is a new piece by Joe Ledbetter called Pelican't. This poor guy has a beak more like a strainer than a bucket.