Posted by
Nick
May 04, 2011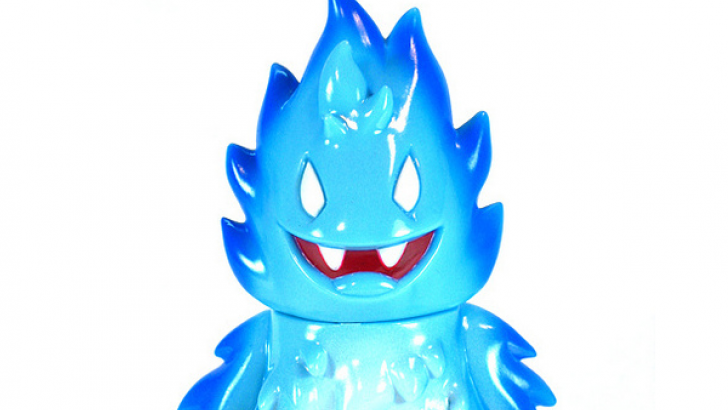 One of our favorite new figures from Super7 was this Honoo release from Leecifer, this is the second release of the lil guy and is the 'Propane' release, propane of course burning blue. I like smartly named and produced colourways and it already has me hankering after an colourway i just made up in my head that has copper feet and a bright green flame (maybe also a magnesium edition with silver feer and a white flame - are you listening Lee & Brian? haha). I'm sure they are already full of ideas, anyway on with the other forthcoming releases...
I think i prefer this blue colourway to the first Honoo drop and as i have already shown it leaves me wanting more and hoping it lives up to being the multi release toy i want it to be - i think it has a few more chemistry related colourschemes to go before we start seeing it in random glitter and clear colourways, not that they won't look great too. I just think they could be cleverly intwined with the well titled colourways. eg Copper could have metallic legs with a clear green vinyl and sprays - instant awesomeness. Same goes for Magnesium with silver feet on a white/pearl glitter vinyl or GID. Badass!
Aside from this exciting Honoo news there were a couple of other releases revealed including this GID Iceberg Steven the Bat by Bwana Spoons featuring Blue GID vintl and darker blue sprays and detaiing and a Cherry Red Fenton with Maroon and pink sprays. All available on May 6th Honoo and Steven are $35 and Fenton $15.
Similar posts
Friday, September 8, 2017 - 1:15pm

The Clutter Gallery is excited to open its doors this weekend to Monster Mash! Sofubi & Kaiju Showcase Vol 1.

Monday, September 26, 2016 - 3:37pm

While the pessimists are saying the designer toy scene is dead, new brick and mortar stores are popping up on both coasts. While Martian Toys expands to Philly, Gravy Toys is putting a bird on it and coming to Portland, OR.