Posted by
Erica
December 15, 2011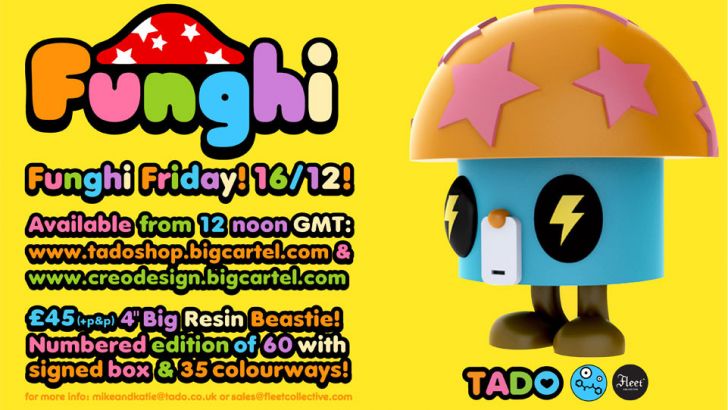 Creo Design is proud to announce that his toy collaboration with UK based TADO will be released this Friday marking it a "FUNGHI" FRIDAY event!
This 4" tall, resin toy comes in 35 colourways. This is a limited edition piece and there are only 60 pieces worldwide! Each "Funghi" also comes in an signed exclusive TADO box, an awesome collectable for any TADO fan. If you are interested in buying one of these colorful little dudes you can find them this friday at 12 noon GMT. Place your orderes becasue they're limited!
Similar posts
Thursday, April 21, 2016 - 6:35pm

In 2010 UK duo Tado teamed up with Kidrobot to create their cutest plushie ever.

Tuesday, January 5, 2016 - 2:01pm

If you live in a climate anything like mine, you're resigned to the fact that you're going to be snowed in at some point this season.

Thursday, December 3, 2015 - 8:38pm

Classic nutcrackers creep me out. But I kind of want to cuddle with this one. Rollins was designed by Mike and Katie of TADO for the Winter Salon exhibit at the StrangerFactory gallery. Several of the pieces were laser-cut for those perfect curves and sharp edges.