Posted by
Erica
December 13, 2011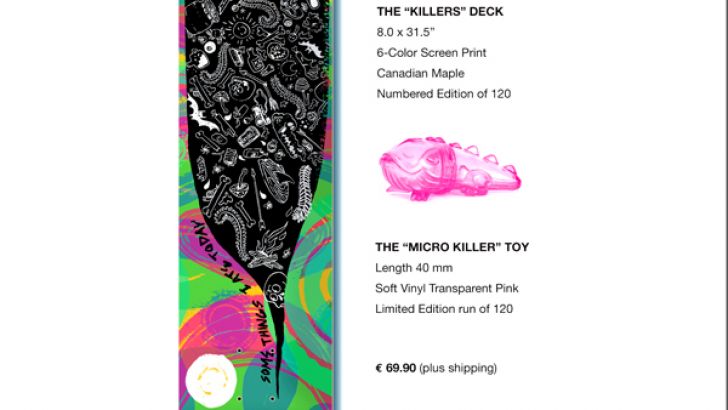 MOBSHOP is releasing a Limited Edition "KILLERS" Skateboard Deck, a HESSENMOB HERITAGE Collaboration with Bwana Spoons. The deck measures 8.0 x 31.5" and has a 6 color screen-printed graphic. This deck has some neat glow-in-the-dark elements and comes with a limited edition Micro Killer toy in transparent pink!
The release date of the "KILLERS" deck is creeping up on us. Although the release date will be sometime around January 2012 HESSENMOB has started a PRE-ORDER process for the "KILLERS" Collaboration exclusively at MOBSHOP. Act fast, there's only 120 numbered skateboard decks.
Similar posts
Friday, September 8, 2017 - 1:15pm

The Clutter Gallery is excited to open its doors this weekend to Monster Mash! Sofubi & Kaiju Showcase Vol 1.

Monday, September 26, 2016 - 3:37pm

While the pessimists are saying the designer toy scene is dead, new brick and mortar stores are popping up on both coasts. While Martian Toys expands to Philly, Gravy Toys is putting a bird on it and coming to Portland, OR.