Posted by
Erica
February 17, 2012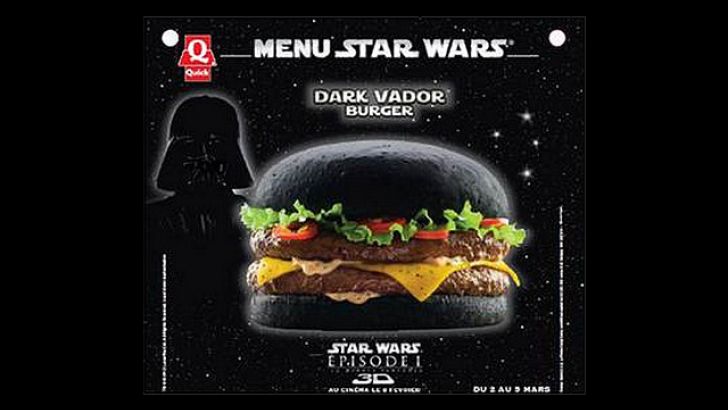 For those of you who are stoked to see the return of Star Wars in 3D, you may be interested in what Quick, a Belgian Fast Food Chain, has just put on their menu... oh yes, some Phantom Menace-themed burgers! These will only be on their menu for a limited time in anticipation of the re-release of Star Wars: Episode 1 in 3D,  starting from the beginning of March.
These tasty treats will be available in three different varieties, with two themes; The Jedi Burger & The Dark Burger
These first two look like a normal pair of double cheeseburgers to me. The Dark Burger looks like it has some special seasonings on top, and the Jedi burger has a mysterious white topping between the burger and the bun... 
But the strangest of them all is The Dark Vador Burger.....
What is that pitch black bun about? Yea yea yea, Darth Vader wears all black, I get it. But still its very strange that Quick managed to dye bread this dark dark shade...
Whatever it is, we are giving it attention, which was probably Quick's intention in the first place. What I find interesting is that they called the Darth Vader burger, Dark Vador... At first i thought it was probably licensing reasons, but they are using Star Wars logos, Imagery and other Trade Marked terms, so I'm just confused. 
I'm not 100% convinced that this is real, plus me being a vegetarian, really shouldn't be blogging about a burger. However, I would go as far as to say that IF for one day i was going to eat meat, that i MIGHT give The Dark Vador Burger a shot. Would YOU?