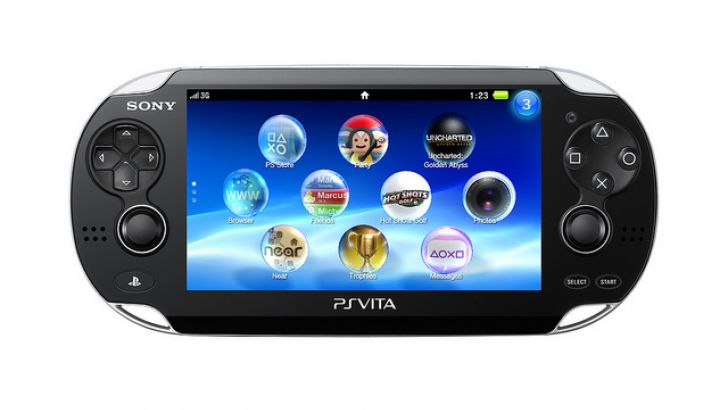 Sony's PlayStation Vita handheld gaming system, the successor to its popular PSP (PlayStation Portable), is officially available in North America today following a Japanese launch back in December. The system is available in a standard Wi-Fi model for $249.99, as well as a Wi-FI and optionally 3G-enabled version for $299.99. Use of the 3G service requires a monthly fee through AT&T. Today's official launch comes one week following the initial release of a First Edition PlayStation Vita bundle, which included the Wi-Fi/3G model, as well as a 4GB memory stick, travel case, and the game Little Deviants for $349.99.
Merging technology and featues from both the home console and mobile phone markets, the PlayStation Vita includes a large touch display as well as a unique new touch-enabled back panel, both of which join traditional buttons, a directional pad, and -- for the first time on a portable gaming system -- two analog sticks. The Vita utilizes small cartridges, as opposed to the UMD discs seen on PSP, though all games are also available for purchase digitally via the PlayStation Store. And many smaller game will also be exclusively released as downloads.
Launching alongside the Vita are more than 25 retail and downloadable games, including heavy hitters like Uncharted: Golden Abyss (above) -- a prequel to the well-regarded PlayStation 3 adventure trilogy -- as well as dazzling puzzler Lumines: Electronic Symphony (below) and futuristic hovercraft racer Wipeout 2048. Additionally, the system offers enhanced ports of several recent console releases, such as Ultimate Marvel vs. Capcom 3 and Rayman Origins.
With the slickest visuals seen to date on a handheld, the PlayStation Vita seems poised to wage a hearty battle against the Nintendo 3DS; but with the iPhone and Android markets continually delivering new experiences at bite-sized prices, it'll be interesting to see if gamers still flock to $30-40 portable games.
Similar posts
Wednesday, February 3, 2016 - 11:37am

Trainers, it's been 20 years since Professor Oak gave us our first starter Pokémon.