Posted by
Erica
March 21, 2012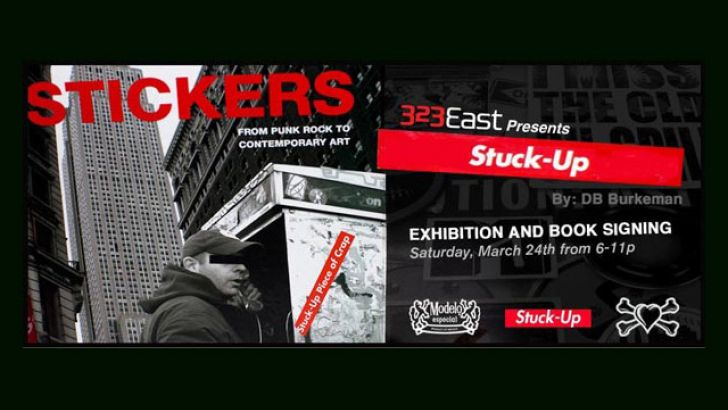 On Behalf of curator DB Burkeman, 323Gallery is inviting you to join them for their upcoming exhibition "Stuck Up" From Punk Rock to Contemporary Art. Burkeman will be signing books and talking about the extensive history that led to the book being put together. This will be the 3rd appearance for the exhibition across the US. Stuck Up gives viewers a chance to explore the world of stickers, and the role they've played in pop culture over the past 4 decades. Stuck Up features stickers from street art legends such as Banksy, Barry McGee, Shepard Fairey, Space Invader and KAWS.


Some awesome contemporary artists will be featured in the show as well such as, Andy Warhol, Jenny Holzer, Keith Haring, Damien Hirst and Tom Sachs.
On the exterior of the gallery there will be a plexi-glass wall where local artists, bands, businesses and brands will be engouraged to slap their stickers on. At the end of the exhibition the wall will be packed up and continue with the traveling exhibition.
If you happen to be in the area you should def. stop by and check it out. The event will be co-sponsored by Pawn Works. Complimentary beverages provided by Modelo. Sounds like its going to be a good time.
Similar posts
Wednesday, April 11, 2018 - 11:07pm

Clutter Gallery is proud to bring a unique sales event to our collectors!

Thursday, October 20, 2016 - 2:16pm

It seemed like KAWS was done with vinyl toys, and I don't think this really changes that, personally. But either way, you can snag six "new" Companions from Modern Art Museum of Fort Worth's online shop.