Posted by
Nick
March 26, 2012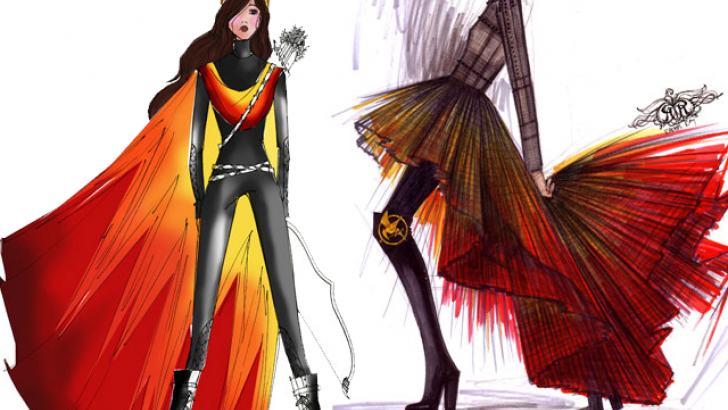 Check out these awesome sketches as 11 designers take on Katniss's fire dress from The Hunger Games.
One of the most anticipated films of the year, and more film adaptations of the books surely to follow it's interesting to see how the different designers take on the design. Some going for a full on literal interpretation and others being weirdly understated or going completely off book with their designs. Fickle bunch them fashion designers. Designers participating include: Christian Siriano, Tommy Hilfiger, Rachel Roy, Tadashi Shoji, Charlotte Ronson, Nicole Miller, Christian Cota, Tibi, Erin Fetherston, The Blonds & BCBGeneration.
Here's the description of the dress from the book by Suzanne Collins:
"I am dressed in what will either be the most sensational or the deadliest costume in the opening ceremonies. I'm in a simple black unitard that covers me from ankle to neck. Shiny leather boots lace up to my knees. But it's the fluttering cape made of streams of orange, yellow, and red and the matching headpiece that define this costume. Cinna plans to light them on fire just before our chariot rolls into the streets."
Personally i'm liking the work from Christian Siriano, Rachel Roy, Charlotte Ronson, Nicole Miller, Christian Cota and whilst it goes quite off book i really like the last design from BCBGeneration.


Christian Siriano


Tommy Hilfiger


Rachel Roy


Tadashi Shoji


Charlotte Ronson


Nicole Miller


Christian Cota


Tibi


Erin Fetherston


The Blonds


BCBGeneration
via [Instyle.com]