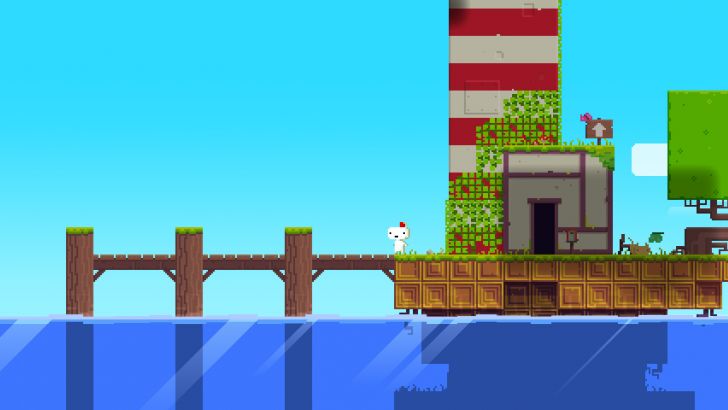 Following a laborious development cycle that was partially chronicled in the acclaimed recent documentary, Indie Game: The Movie, downloadabdle game Fez will finally be released on Xbox Live Arcade on April 13 for 800 Microsoft Points ($10). Primarily designed by two people -- designer Phil Fish and programmer Renaud Bedard -- the indie game employs a pixel-based art style that holds a surprise: the ability to fully rotate the game world 90 degrees at a time to create illusionary paths to get through each stage.
Paired with a stunning chiptune-based soundtrack, Fez is one of the most anticipated Xbox Live Arcade titles in recent memory -- and it recently won the grand prize at the Independent Games Festival (IGF) awards at the Game Developers Conference in San Francisco, despite being overshadowed slightly by controversial comments from Fish. With luck, the quality of the game will shine through and calm those taking pot shots at the game for its lengthy public development cycle and Fish's abrasive opinions. We'll all find out in just a couple short weeks.
Similar posts
Wednesday, February 3, 2016 - 11:37am

Trainers, it's been 20 years since Professor Oak gave us our first starter Pokémon.

Tuesday, November 26, 2013 - 3:29pm

Klei Entertainment, the developers behind the hit video game Don't Starve, have teamed up with award-winning toy designer Erick Scarecrow to create not only a plush replica of one

Wednesday, June 12, 2013 - 5:51pm

The highlight of last years E3 was the yet to be released Watch Dogs from Ubisoft. This year Ubisoft did it again with Tom Clancy's: The Division, a post apocalyptic(ish) open world role play game where you roam a significantly different and terrifying New York City.