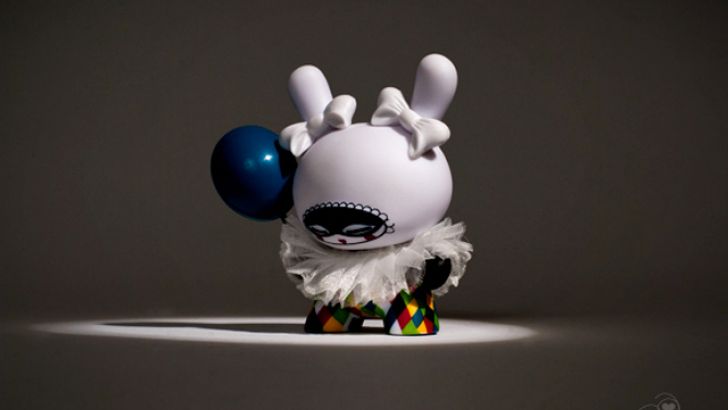 When Kidrobot released the Chauskoskis designed "Birro the Clown" as a limited run three-inch dunny last month, it was only logical to assume that this was a rather special release; Kidrobot rarely release dunny figures outside their normal blind boxed annual series sets and, when they do, the pieces are usually holiday themed. But it certainly appears that Kidrobot are shaking up their game, trying new and exciting things. For instance, the above pictured piece is a new limited production run 3-inch dunny!
Entitled "Arlequine" (the feminine form of Harlequin in French), this absolutely adorable vinyl figure was designed by Koralie — in case those iconic bows on the ears didn't give it away to you. I love the simple but satisfying visage of this dunny: a painted white face mostly obscured by a white hood, the traditional black mask peeking out beneath, and a tiny set of rosy red lips stealing your attention. And, of course, the bright and colorful costume we normally associate with a jester is present, topped with an actual fabric collar. The blue balloon accessory, which rounds out the figure, is the perfect finishing touch.
There will be only 1,500 copies of this figure made worldwide and it will sport a retail price of $14.95 each. Set to be released on April 12th, "Arlequine" will be exclusively available from Kidrobot retail stores.
Similar posts
Wednesday, September 13, 2017 - 12:49pm

After spending an eternity in the darkest depths of the ocean... the OctoDunny has finally surfaced!

Wednesday, August 30, 2017 - 7:25pm

After spending an eternity in the darkest depths of the ocean... the