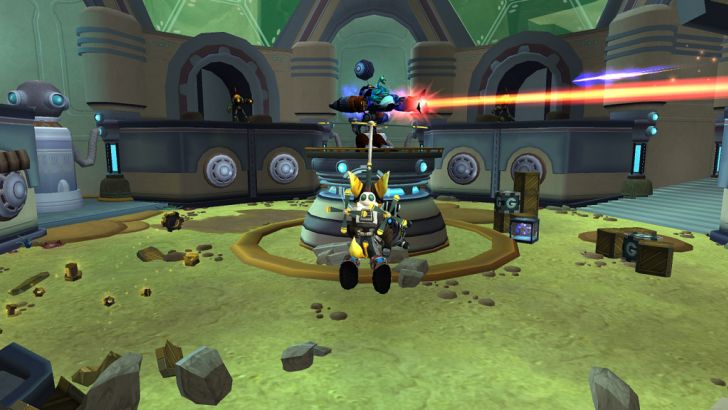 Insomniac Games' Ratchet & Clank is one of the most beloved platform-action series in gaming, and after a lengthy bout of rumors and anticipation, Sony finally confirmed this week that the first three seminal PlayStation 2 entries will be re-released together on PlayStation 3 this fall.
The Ratchet & Clank Collection will bring together Ratchet & Clank, Ratchet & Clank: Going Commando, and Ratchet & Clank: Up Your Arsenal on one Blu-ray disc, with all three titles bumped into high resolution with optinal 3D support. Plus, Up Your Arsenal will include the online multiplayer mode from the original release, playable over the PlayStation Network.
European gamers will actually get the re-release this spring, but according to the post on the PlayStation.Blog, we can expect something special in the North American version in exchange for the lengthier wait. It's probably wishful thinking to hope that the bonus is Ratchet: Deadlocked, the fourth (and more combat-centric) PS2 entry, but we'll keep our fingers crossed that Insomniac decides to give us the full initial series set in a single package this fall.
Similar posts
Wednesday, February 3, 2016 - 11:37am

Trainers, it's been 20 years since Professor Oak gave us our first starter Pokémon.

Tuesday, November 26, 2013 - 3:29pm

Klei Entertainment, the developers behind the hit video game Don't Starve, have teamed up with award-winning toy designer Erick Scarecrow to create not only a plush replica of one

Wednesday, June 12, 2013 - 5:51pm

The highlight of last years E3 was the yet to be released Watch Dogs from Ubisoft. This year Ubisoft did it again with Tom Clancy's: The Division, a post apocalyptic(ish) open world role play game where you roam a significantly different and terrifying New York City.