Posted by
Erica
March 05, 2012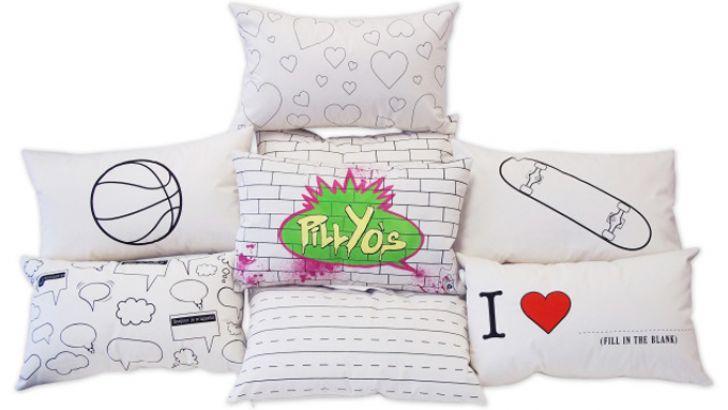 Check out the Pillyo's!! They are the latest creation of Jon Layne from the PartyLayne crew.
Express your individuality by designing your own custom pillow. You can draw, doodle, tag, color, scribble, or paint it. Sounds like a good time!
How to use this Kit:
Find a clean space to work, set up your activity, sketch out your design first on paper, and let your creative juices flow! Use the enclosed items and anything else you can find to create your own work of art.
What's in the Bag?
Includes 1 DYO PillYo pillow case, 1 12X20 pillow and 2 Deco Fabric paint markers.
Once you've finished your creation, share it with the rest of the world by uploading it to their
Facebook Page
.  
Comes in 7 different designs - The Original Tag Wall, The PenMan Ship, BBall, Skateboard Solo, Da Bubbles, I Heart ____, and Lot's O Hearts.
After markers have been applied, dry flat overnight
12X20 pillow Insert - polyester blend
Comes with 2 Deco Fabric paint markers - acid free, odorless
100% Cotton Canvas pillowcase
Imagined, Created, and Made in the USA
Designed by Jon Layne and the PartyLayne® Crew
These will retail for around $37 a pop.
So grab one for yourself HERE!
Similar posts
Wednesday, June 29, 2016 - 11:24am

You probably remember the Wave City Dining Table and Coffee Table from St

Thursday, April 21, 2016 - 2:04pm

Ah, truth in advertising. Swedish artist Viktor Hertz is following up his snarky rebrands of famous logos with a new series of designs.