Posted by
Erica
March 30, 2012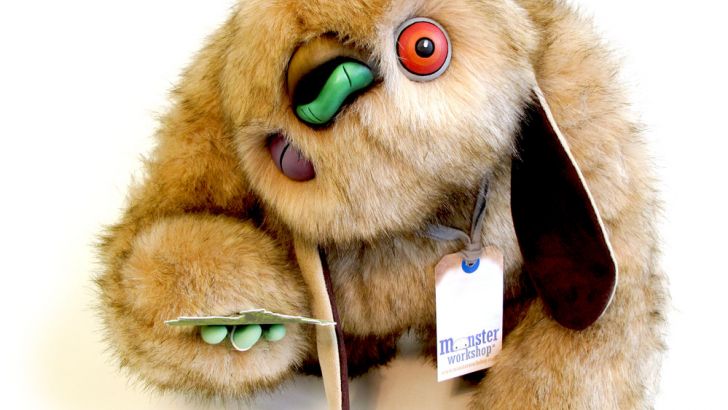 Check out Stitches and Glue's latest limited edition Plush figure, Patch. Patch has super soft blonde faux fur hair, with dark brown guard hairs. He's been hand casted and painted, with his features sealed by a protective lacquer. Patch comes with white and green casted claws and an elasticated detachable cabbage leaf.
"Don't expect much in the way of intelligence from this long eared fuzz ball. Patch here is obsessed with the consumption of his 5 a day, mainly focusing his diet on cabbages. He was retained by a local gardener, whose cabbage patch was completely emptied during the course of one single night. The consequence of his obsession for cabbages is an unpleasant odour and it has also marked him with a bright green bottom lip and right paw.

His gentle nature and on-going struggle with his ears, make for an entertaining house guest."
Patch is completely hand made and comes fully standing with a poseable head and bendable arms. This is a limited edition piece so there are only 3 to ever be made. Patch's arms measure 14"x9"/30". This Plush Figure Retails for £180.00.
Grab Him HERE!
Similar posts
Friday, June 29, 2012 - 3:50pm

The Monster Taxidermy department over at Stitches And Glue have been very busy. Take a look.