Posted by
Erica
April 05, 2012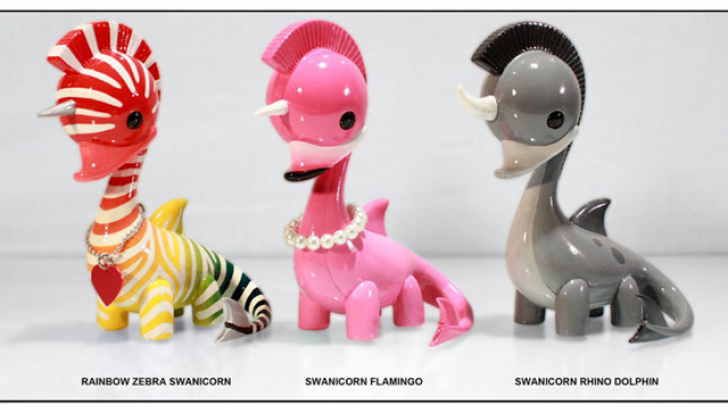 Daniel Fleres has been posting photos on his site of his latest run of "Swanicorn" figures.
Incase you are unsure about what exactly a Swanicorn is, here's the proper definition and a little bit of background info:
swanicorn (swon i korn), n. 1. A mystical and mysterious creature. Swanicorns are commonly part swan and part unicorn with an element of the unexpected.



APPEARANCE:

Characteristically, Swanicorns have vibrant mohawks which sit atop the head of a swan, adorned with a unicorns horn. Exhibiting a myriad of sizes and colors, there is no end to the creative beauty that a Swanicorn can possess. Some Swanicorns have even grown tails of various magnitude, while others show off their wings or shark fins. 



HISTORY:

The first historical account of the Swanicorn dates back to a cave drawing known as "The Swanicorn Stone". Though very little has been documented about The Swanicorn, more surviving accounts of the Swanicorn from societies all over the world have begun to resurface.


In fact, the Swanicorn has recently been produced in resin by Dragatomi in preparation for their show with Daniel which is slated to open on Saturday, May 12th 2012! The show will include 16 hand-painted, 7" tall Swanicorn'. Stay tuned for more details as the show comes closer. 
Similar posts
Monday, May 5, 2014 - 11:05pm

Squink's latest work is a customized version of the underutilized Unicorno platform by tokidoki.

Monday, January 6, 2014 - 6:14pm

Opening this Saturday at Dragatomi (2317 J Street, Sacramento, CA 95816) is "Vibrant Daydreams", an art show featuring three local artists - Bamr, Jared Konopitski and Mandark.