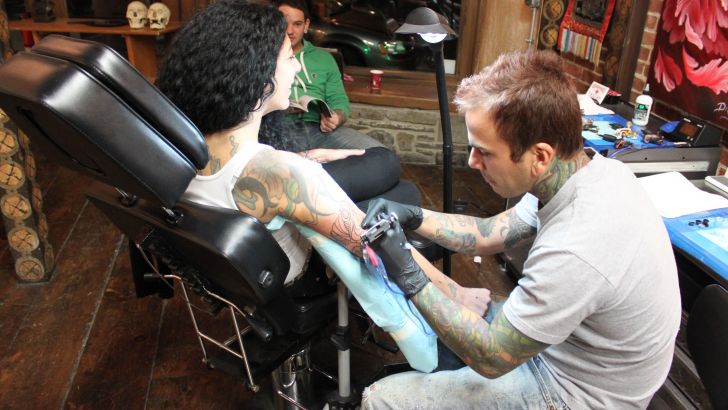 There really isn't much better than two amazing artists coming together to share their expertise and experience, so when Randy Patterson heard about the opportunity to get inked by Industries Finest Diego (Shown with green hoodie) of Graceland Tattoo  and Tim Meuller  (LA Based, grey t-shirt) she jumped on it! 
The inking took place at Graceland Tattoo in Wappingers Falls NY, at a closed Sunday afternoon session. The design was based on a traditional gypsy woman, customized to suit Randy's style. The duo worked together mainly on the color and shading, tag teaming the overall look and feel. 
The final piece took just over 4 hours and looks amazing, the photo really doesn't do it justice. 
Diego is a resident artist at Graceland, and Tim guest spots at least once a year, so if you are interested give them a call and reserve a spot! 
Similar posts
Friday, March 18, 2016 - 1:38pm

Someone has paid Steff Bomb one of the highest complements possible by getting her art tattooed on his forearm.

Monday, March 4, 2013 - 11:55am

As the story goes, Dutch artist Bash's Bruno Bear had a thing for gambling despite the fact he never won. One day while discussing tattoos with a friend Bruno disclosed that he always wanted a tattoo but he didn't know what tattoo to get.