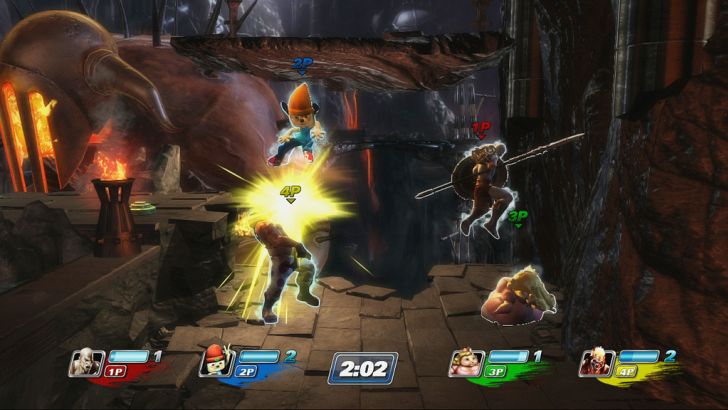 Following a lengthy spate of rumors, Sony has finally revealed PlayStation All-Stars Battle Royale, an upcoming PlayStation 3 arena brawler that is essentially the company's take on Nintendo's Super Smash Bros. franchise. Pulling from all areas of the publisher's extensive lineup, the four-player fighter features characters like Kratos from God of War, PaRappa the Rapper, the titular Fat Princess, Sweet Tooth from Twisted Metal, and Sly Cooper.
As in Smash Bros, PlayStation All-Stars Battle Royale looks to serve up a load of fan service in the form of an accessible fighter, where players battle it out in arenas inspired by popular PlayStation games. One such level shown so far is inspired by LittleBigPlanet and shows the stage being built and redesigned as you fight, while others have familiar elements from Killzone, Patapon, Jak and Daxter, and Hot Shots Golf.
Sony seems to be leaving no stone unturned for this release, though it'll be interesting to see if they're able to pull in characters from third-party publishers' franchises. Surely we'll see many more characters and stages revealed in the coming months, with more details promised at the Electronic Entertainment Expo in Los Angeles in early June. For now, here's the first trailer for the game.
Similar posts
Wednesday, February 3, 2016 - 11:37am

Trainers, it's been 20 years since Professor Oak gave us our first starter Pokémon.

Tuesday, November 26, 2013 - 3:29pm

Klei Entertainment, the developers behind the hit video game Don't Starve, have teamed up with award-winning toy designer Erick Scarecrow to create not only a plush replica of one

Wednesday, June 12, 2013 - 5:51pm

The highlight of last years E3 was the yet to be released Watch Dogs from Ubisoft. This year Ubisoft did it again with Tom Clancy's: The Division, a post apocalyptic(ish) open world role play game where you roam a significantly different and terrifying New York City.