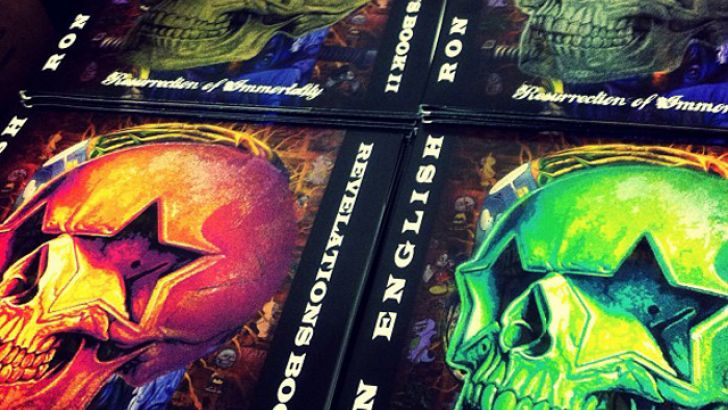 The above image was just posted by 1xRUN on their Twitter feed and we feel confident that we know exactly what it is. "Revelations Book II" was an audio recording made by Ron English (with the likes of Daniel Johnston, Patti Rothberg, Railroad Jerk, Wammo, and Emilio China) which was released by Which? Records on CD back in 1999. Then, earlier this year, PopGod.com reissued it as a Double-LP record set, 13 of which 1xRUN sold in a hand-embellished state (the covers having been built upon by English to turn them into true, singular mixed media artworks). But what does this have to do with the above teaser pic?
Those are obvously more copies of "Revelations Book II" and, back when 1xRUN did their previous release, "another larger edition stenciled release of" the album was promised. We strongly suspect that this is — finally — those promised hand-made stencil editions of the record release and expect 1xRUN to announce a release date with price point shortly. If you can't wait, it appears that Amazon is the only location you are currently able to buy the LP normally.
Similar posts
Thursday, November 19, 2020 - 10:53pm

Ron English's classic Lady Lips image is now three-dimensional as a life-size sculpture and vinyl art-toy sculpture release! 

Wednesday, February 26, 2020 - 10:30am

Join us on February 28, 2020, at 6 pm in SoHo, NYC to celebrate the amazing artwork of Ron English with some very special exclusive releases!