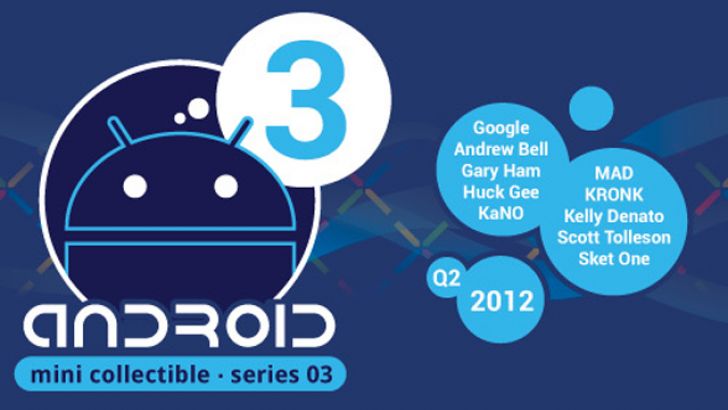 Andrew Bell has announced the DYZPlastic will be releasing the Android mini collectible Series 03 hopefully by the end of July. The series was originally slated for an earlier release, but improvements in the manufacturing process have delayed the release date slightly while resulting in a "better than ever" production release. Of course, everyone is curious as to what will be in Series 03 and — thankfully — the Android Guys website has leaked a partial design sheet for the set:
Top Row (L-R): Google Inc. (2/16), Google Inc. (2/16), Google Inc. (1/16), Gary Ham (2/16), and Andrew Bell (1/16).

Middle Row (L-R): Huck Gee (1/16), kaNO (1/16), Sket-One (1/16), MAD (1/16), and KRONK (1/16).

Bottom Row (L-R): Scott Tolleson (1/32), Scott Tolleson (?/??), Kelly Denato (1/16), Andrew Bell (1/16), and KRONK (?/??).
Quite the fantastic line-up of artists, but there are quite a few mystery designs show there. Let's leave you on a high note a reveal the hidden KRONK piece from the middle row, entitled the "Escape Ape" Android:
Similar posts
Friday, November 24, 2017 - 12:23pm

One of the most requested resin releases of the year, the Octoblank, is back with a brand new colorway! 

Tuesday, July 25, 2017 - 8:46pm

Clutter and The Designer Toy Awards are excited to announce the first colorway release of the epic Huck Gee design – SKLFKR:UNTOUCHED!!