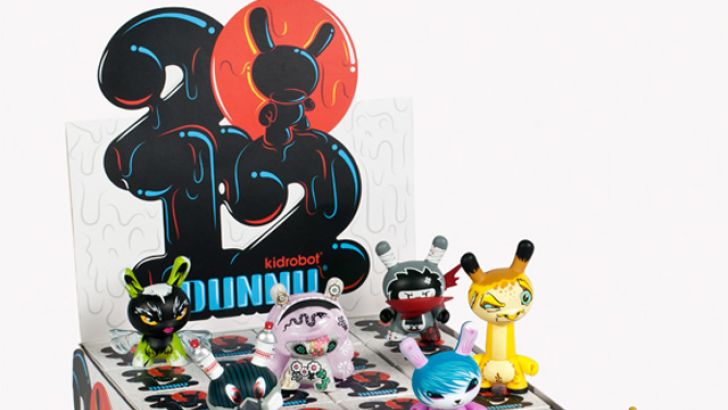 We'd previously posted about the leaked design sheet for the upcoming 2012 Dunny Series by Kidrobot, but now we have official pictures of the production pieces themselves. Not including the case exclusive 3" Dunny, this series will feature 20 Dunnys by 14 artists… indicating that there will be a total of six variant colorways, two of which will be revealed below. The series will be released on June 21st and, while supplies last at select locations, those buying a full case will receive a bonus Dunny designed by The Sucklord.
Alas this case exclusive design is being a well-kept secret at the moment (as is the mysterious 2/20 Jon-Paul Kaiser contribution to the series),  but here's everything else revealed for your viewing pleasure…
The 2/20 Pac23 design, the 2/20 MAD design, and the 2/20 Triclops Studio design.
A 2012 Dunny Series blind box and the 2/20 Sergio Mancini design
The "Wiggle Land" design by Tara McPherson in ?/?? variant and 2/20 regular versions.
The 3/40 "Ping" design by Mauro Gatti, the 3/40 D. Ross "Scribe" design, and the 3/40 "Pong" design also by Gatti.
The 3/40 Jeremiah Ketner design.
The 1/40 Andrew Bell design.
The ?/?? Kronk design, the 1/40 Nakanari design, and the 1/40 Attaboy design.
The ?/?? Junko Mizuno design.
All the revealed designs with a full case.
Similar posts
Wednesday, September 13, 2017 - 12:49pm

After spending an eternity in the darkest depths of the ocean... the OctoDunny has finally surfaced!

Wednesday, August 30, 2017 - 7:25pm

After spending an eternity in the darkest depths of the ocean... the