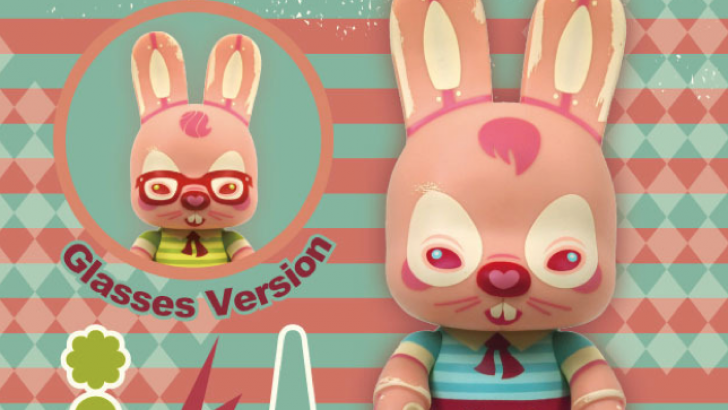 Well, this is adorable. Scott Tolleson is teaming up with Toy2R for a production line of five-inch Mini Qee figures named Preston T. Pinkerton, or Mr. Pinkerton. The official description, picked up by SpankyStokes, reads, "Mr. Pinkerton to his close friends, is the most intelligent and lovable hare in all the forest. He enjoys wearing his lucky pair of magic spectacles while skipping about on his many adventures. Wind him up and watch him hop and your joy for Mr. Pinkerton will never stop."
Mr. Pinkerton comes in blue and pink colorways, with each also coming in a Glasses variant; and the blue one feature a swell mustache in addition to the specs. He's set to ship in late July at a price of $28 apiece.
Similar posts
Friday, January 13, 2017 - 9:24am

Scott Tolleson and Kidrobot have teamed together again-this time it's the Labbit platform that's getting the argyle treatment!

Friday, November 4, 2016 - 3:40pm

You probably don't need much convincing to go to DCON this year, but just in case you do, check out the preview for the Toy Within a Toy exhibition organized by Broke Piggy.