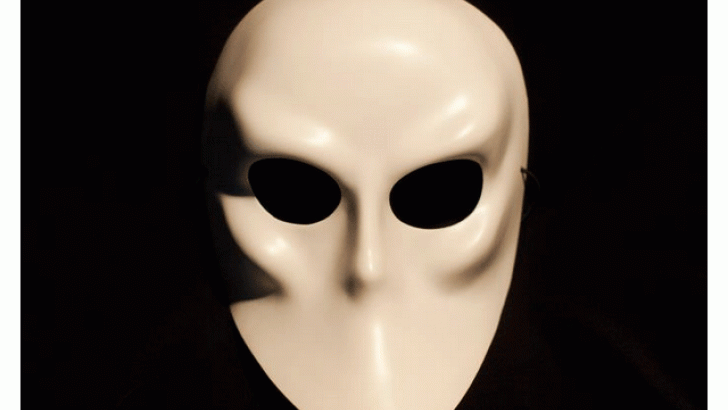 Sleep No More is an awesome show currently running in Chelsea. I wanted to mention it here in Clutter because I think you should all see it before it closes on July 21st. 
It's a difficult show to describe because it's like no other I've ever seen before. There is no starting point for people to reference, so getting the big picture can be hard when someone (me) is raving about how great this show is. People need that starting point so they can picture the scene in their mind. How can it be a show when the audience is required to be silent and wear masks and their is no designated stage for the performers to work off of and no spoken lines? 
The audience is required to wear Venetian style masks and to remain silent through out the show as it unravels. There is no line drawn in the sand separating the audience and performers.
I'm going to give it a shot without ripping off another theater review. I hope the pictures I've included convey what I'm not able to. 
Punchdrunk is the British site-specific theater company that has taken 3 warehouses in Chelsea and turned them into The McKittrick Hotel. The hotel is where a Macbeth - meets- Film Noir story develops and the audience is right in the thick of it. 
This is the room where the witches cook up their potions. The audience is encouraged to take their time and dig through whatever they want to. That can be a problem though because it's easy to get lost in a room like this . While I'm sifting through tiny drawers and jars, the show is going on. The story happens in real time and is not staged like a traditional play. Sleep No More is Macbeth in a haunted house for adults.  As a matter of fact, no one younger then 17 is allowed to attend. 
I sat on the bench under the window and watched this scene when I attended.  The whole performance was that close and intimate. As long as you're not in the way, you can hang out where ever you want. 
You can hear what's going on in other parts of the hotel. There is a rave in one room while a murder in going on in the next, so it's not exactly quiet. 
This is what's looking through the bedroom window.
I tried to pick one character and follow them through the hotel, but then I realized I would be missing so much of what was going on. Remember, there is no starting point, you are free to wonder about the hotel at your own pace and soak up all of the details and clues left for you. Open letters, books, drawers,crime scenes, so many minor details are there for you to digest. 
I do recommend that you try to catch the finale. The banquet scene is awesome and beautifully done. 
These are hair samples found in the psychiatric hospital. 
This is the candy shoppe. 
The detective agency. Remember to brush up on your Macbeth before you go.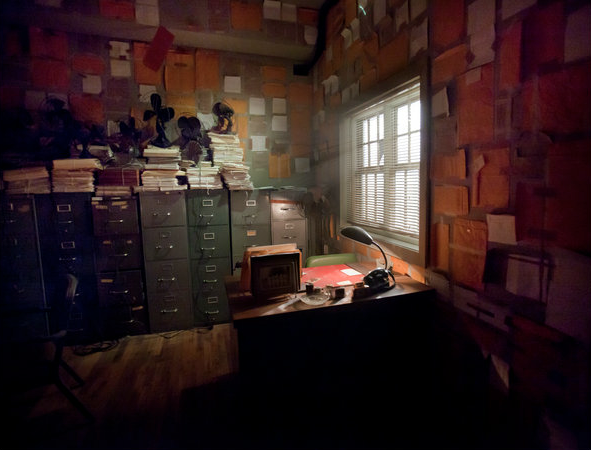 What did I say about detail?? This is in the taxidermy shop. 
Sleep No More leads its audience up and down rooms, hallways, corridors and secret gardens. It is an amazing haunted house with Macbeth to back it up. After it was over you are led to the McKittrick Hotel's bar/lounge area to have some drinks and listen to the jazz quartet. 
I recommend the Absinthe - Cucumber punch. Get there before this show closes. Sleep No More runs through July 21st and is located at The McKittrick Hotel located at  530 W 27th st. NY NY. All photos by Sara Krulwich.