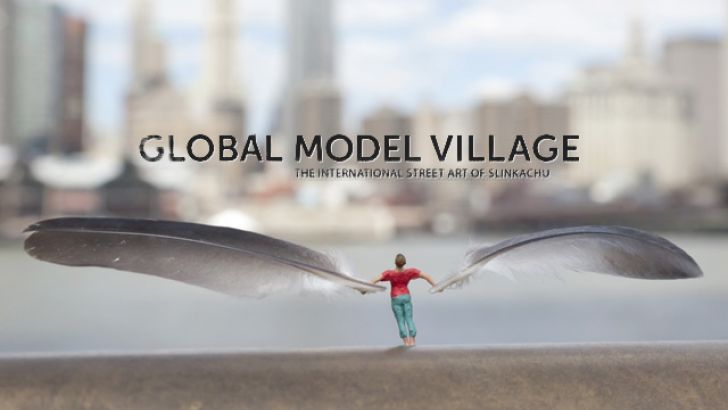 English street artist Slinkachu has traveled the world, dispensing his Little People project in tiny doses everywhere. While his peers are obsessed with the "bigger is better" philosophy — desiring their art to be emblazoned upon the sides of buildings or over billboards — Slinkachu strives towards the opposite approach, crafting tiny scale people that interact with their surroundings and tend make commentaries about modern life. In his second art book, a 120 page full color hardcover, we are presented with 50 different installations he has left in cities such as New York, Moscow, Cape Town, Paris, Beijing, Hong Kong and, of course, his native London. Most of the images in the book haven't been seen before, though it does include some favorites from Slinkachu's most recent show in Belgium, images taken at Fame Festival in Italy and for his solo show last year in Germany. There's even a foldout centerfold located within the pages.
Entitled "Global Model Village," the edition comes out the same day in the UK from Boxtree / Macmillan and in the USA from Blue Rider Press, with versions in Germany, from Cadeau / Hoffmann Und Campe under the title "Kleine Leute in der Weiten Welt" (trans. "Little People Worldwide"), as well as one in Japan both forthcoming. The US edition bears a retail price of $17.95 and is currently available for pre-order from Amazon.
Similar posts
Tuesday, May 29, 2018 - 12:27am

The Clutter Gallery is proud to present an amazing group exhibition curated by street artist Chris RWK!  Artists Include:

Tuesday, May 16, 2017 - 10:35pm

kaNO returns to NYC and is making a BIG splash on the Lower East Side!