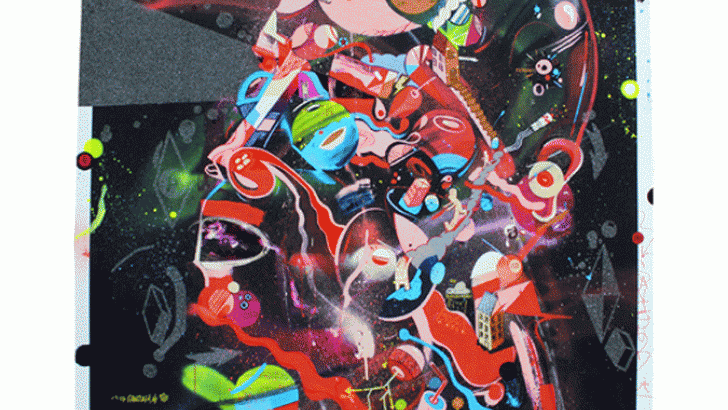 Sickboy has released"Inside My Head" a new, colorful, detailed print that is based on the original shown in his first solo show in the US. "Inside My Head" has a run of 60 signed & numbered prints with Sickboy's embossed logo. Standing at 75x94 cm, the print is selling for £160 (approx $250).
Sickboy has also made the print extra special by sprinkling fairy-like diamond dust on the print.  "Inside My Head" is a full color Giclee with screen printed spot varnish, diamond dust & gold/silver leaf. 
There is a hand finished special selling for £260 ($405 approx) pounds with a run of 10. 
"Inside My Head" is set for release on 8/16 at 12:00 GMT at www.thesickboy.com. You can pre-order the print here.
Similar posts
Tuesday, March 29, 2016 - 10:18am

Do you prefer your toys on the darker, more macabre side? Then this one might just be for you!

Tuesday, February 23, 2016 - 4:06pm

You're probably familiar with JPK's Woodsman character by now, but now it's time to meet the Blacksmith, who is making his debut in this new A3 print.