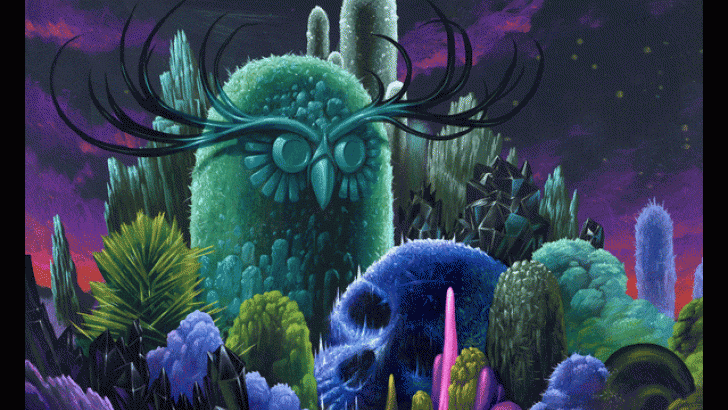 'Decay And Overgrowth' is the title of Jeff Soto's latest exhibition at the Jonathan Levine Gallery. The exhibit delves deeper into subjects that Soto touched upon in his 2010 exhibit 'Lifecycle,'  which looked into the passage of time, life & death, as well mystical attempts to explain the unknown. 'Decay and Overgrowth' is the fourth solo show Soto has exhibited at Jonathan Levine Gallery. 
Soto has this to say about 'Decay and Overgrowth': "I've been thinking more than ever about how lives are short, fleeting and unexpected. I've been researching man's migration across the planet, our domestication of plants and animals and the slow evolution of different cultures. I find it interesting that each generation adds their own small part to our collective human experience. I'm continually fascinated by mankind's relationship to nature and how humans have been bending the environment in good and bad ways for tens of thousands of years."
'Decay and Overgrowth' opens September 8th & runs through October 6th. Opening reception is September 8th from 7-9pm at Jonathan Levine Gallery. 
Similar posts
Wednesday, July 9, 2014 - 10:47am

DKE Toys is proud to announce another SDCC 2014 release: NekoFukurou by Jeff Soto x Blackbook Toy!

Thursday, January 9, 2014 - 11:16am

Today is a good day. Not only are we ever closer to the weekend, but Jeff Soto is set to release his latest prints with partner, Prints on Wood.