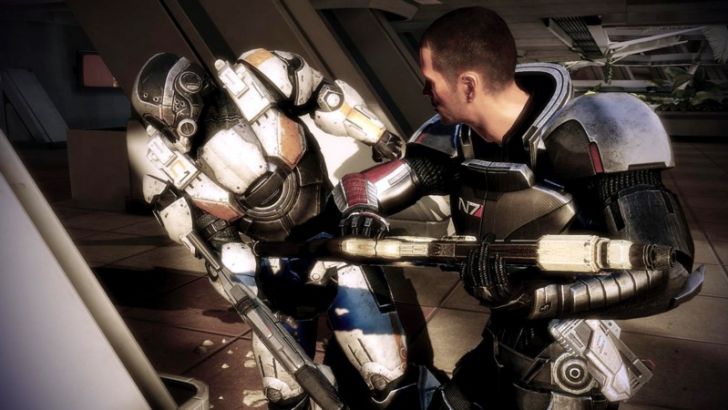 Action fans looking to get a whole bunch of excellent gaming this holiday season would do well to consider the Mass Effect Trilogy and Assassin's Creed: Ezio Trilogy, both of which were announced this week and will launch in November at seriously compelling price points.
The Mass Effect Trilogy collects the three hugely popular science fiction role-playing quests (Mass Effect, Mass Effect 2, and Mass Effect 3), with the Xbox 360 and PC versions due out on November 6 for $59.99. Most notable here, though, is the PlayStation 3 version, which will launch at an undetermined later date and finally deliver the series debut on the platform. Mass Effect will also be sold as a standalone downloadable game for $15 on PlayStation 3, though, for those who already bought the sequels on their own.
Meanwhile, the Assassin's Creed: Ezio Trilogy will only be available, collecting the last three entries in the open-world historical action series: Assassin's Creed II, Assassin's Creed: Brotherhood, and Assassin's Creed: Revelations. The set will launch on November 13 for $39.99, though the proper new franchise entry -- Assassin's Creed III -- debuts on October 30.
Similar posts
Wednesday, February 3, 2016 - 11:37am

Trainers, it's been 20 years since Professor Oak gave us our first starter Pokémon.

Tuesday, November 26, 2013 - 3:29pm

Klei Entertainment, the developers behind the hit video game Don't Starve, have teamed up with award-winning toy designer Erick Scarecrow to create not only a plush replica of one

Wednesday, June 12, 2013 - 5:51pm

The highlight of last years E3 was the yet to be released Watch Dogs from Ubisoft. This year Ubisoft did it again with Tom Clancy's: The Division, a post apocalyptic(ish) open world role play game where you roam a significantly different and terrifying New York City.