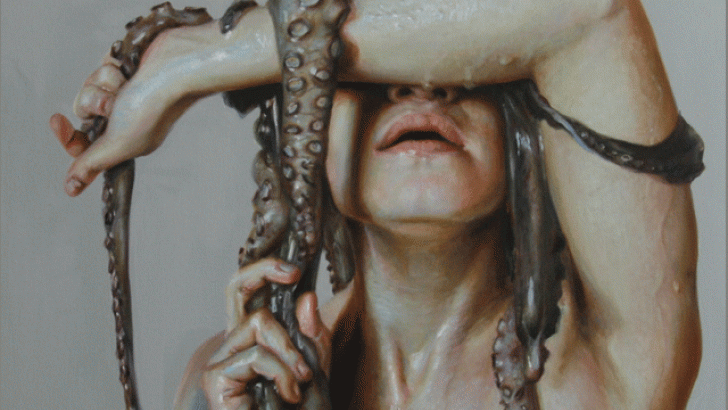 New York based artist Monica Cook's paintings have been described as "uncomfortably beautiful". Her photo realistic portraits of very personal, licentious scenes take your breath away and leave you wondering "what the hell is going on?"  In her series "Seeded and Soiled" women are shown reveling in food and as well as each other. Monica explains the process of creating her paintings; "I begin with a photo documented, private performance. I start with a vague idea, while interacting with the chosen objects during the performance the idea develops. I picked food for the paintings because it closely resembles flesh, an extension of the flesh. In the midst of these explorations I try to make these ordinary substances or objects new to me, foreign to me, to reinvent them. That experience is what I try to translate through these paintings and drawings." For this series, Monica chose octopus, watermelon, pomegranites & fish. The choice of food certainly adds to these amazing scenes. 
[VIA] All images courtesy of Monica Cook. 
Similar posts
Monday, August 22, 2016 - 1:53pm

As a rock climber, painter, photographer, filmmaker, and The North Face athlete, Renan Ozturk is a true renaissance man.

Thursday, August 18, 2016 - 2:45pm

Everybody and their mom wants a painting by Canadian pop surrealist Alex Garant. Sure, you could grab an open edition print or even a hand-embellished print at an affordable rate. But a real-deal piece of original art from Garant is ideal.