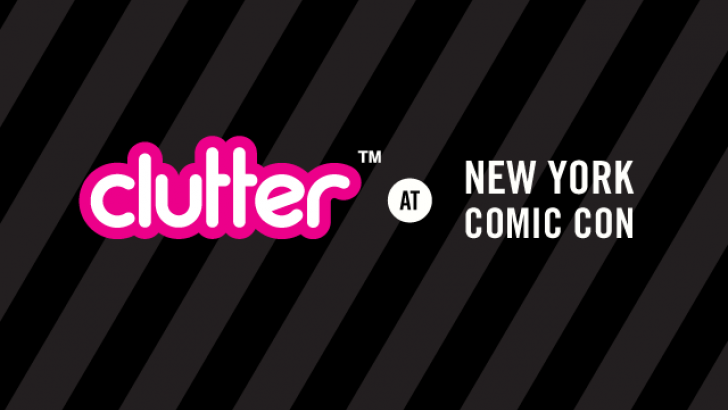 The New York Comic Con begins in a matter of days - here's a roundup of Clutter's booth, featuring special edition goods from Ron English, Brutherford Industries, The Sucklord, Jeff Lamm and more...!
In addition to the New York Comic Con, Clutter will also be hosting the 2nd Annual Designer Toy Awards, a huge and amazing event on Saturday evening, October 13, 2012. Details are here - we can't wait to see you all there! Here's a run-down of Clutter at NYCC - follow the links to see our really great offerings:
BOOTH 3004 - JAVITS CENTER!
Signings and Artist Appearances:
Friday, October 12:
* SEKURE D — 10:00 am to 12:00 pm
* RON ENGLISH — 12:15 pm to 1:30 pm
* VOLTAIRE — 2:00 pm to 3:00 pm
* BRUTHERFORD — 4:00 pm to 7:00 pm
Sunday, October 14:
* BRUTHERFORD — 12:00 pm to 5:00 pm
Exclusives, Premieres and Special Editions:
* CLUTTER MAGAZINE ISSUE 17 — The latest issue of Clutter's flagship print magazine will premiere at NYCC. Frank Kozik on the cover, lots of goodness inside. $10 each!
* FAT TONY: PINK - Ron English's instantly classic vinyl figure, this pink edition is limited to 100 pieces. Only 50 will be available at NYCC. $99.99 each!
* ICE SCREAM MAN: DORK NIGHT EDITION — Brutherford's hand-made ice cream demon gets the comic book nerd treatment. Limited to 30 pieces. Only 20 will be available at NYCC $100 each!
* CLUTTER BRANDED TEES AND GOODS — Clutter is launching an amazing new line of tees, messenger bags and other goods, featuring original art by Pete Fowler, Jeff Lamm, Joshua Ben Longo and The Sucklord. Special NYCC editions!
* ABRAHAM OBAMA LENTICULAR PRINT — An amazing and once again timely image by Ron English in a beautiful 3D lenticular print. Extremely rare - VERY limited quantities available, $350 each!
* CUSTOM VINYLS BY SEKURE D — Australian artist is coming the the US for the first time and will offering a special set of customized Kidrobot goods at the Clutter booth. $55 to $220!
* DESIGNER TOY AWARDS VIP BADGES & LUCKY BAGS — Come by the Clutter booth to pick up special VIP access to the Designer Toy Awards ceremony, and to buy some of the most amazingly assembled Lucky Bags ever. $50 to $500!
PLUS...!
More goods by Ron English & Popaganda, Frank Kozik, Brutherford Industries, Michael Michael Motorcycle, Pete Fowler, Clutter Magazine…. and much much more. 
See you at NYCC - Booth 3004!
Similar posts
Tuesday, October 2, 2018 - 10:55pm

Honor your love for all things macabre, Bowie and Pop Surrealism with The Rebel Rebel Heart Skull by Ron English. 

Wednesday, September 26, 2018 - 10:50am

We are super excited to be teaming up with Five Points Festival and our friends at Kidrobot, Clutter, POPaganda, Martian Toys, Mutant Vinyl Hardcore, Lagunitas and more to party during the weekend of New York Comic Con 20