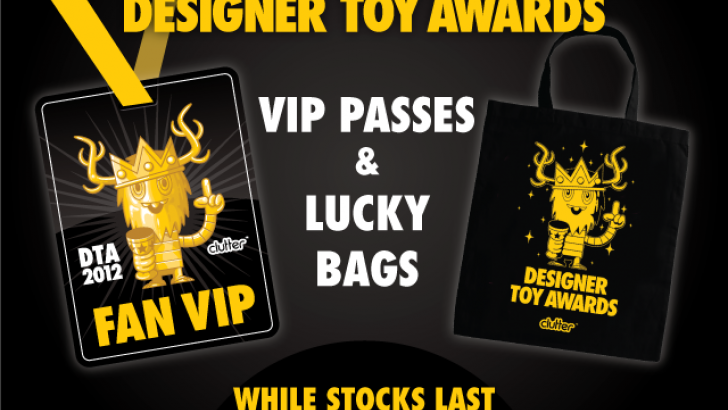 In celebration of our upcoming 2nd Annual Designer Toy Awards Ceremony, we've decided to pull out all the stops and ask over 60 of our industry friends to contribute production pieces, rarities and oddities to make some amazing Lucky Bags. Contained within each reusable tote bag could be anything from custom "one-off" figures tounreleased colorway prototypes, from original artwork to completely exclusive editions… and, of course, there will be hordes of released figures in there, as well as other surprises. No two bags are exactly the same!
There are three levels of Lucky Bags:


$500, which contains over $1000 worth of merchandise;



$250, which contains over $500 worth of merchandise; and



$100, which contains over $200 worth of merchandise.
While these will mainly be available at our 2nd Annual Designer Toy Awards Ceremony on Saturday, October 13th at Providence NYC, we have an exceedingly limited number available to our online fans who might not be able to attend.
So who contributed to these Lucky Bags? Each one might contain pieces from:



64 Colors, Anna Chambers, The Art Hustle, ArtmyMind, Bitbots, Blamo, Brutherford, Camilla d'Errico, Carlos Enriquez-Gonzalez, Carson Catlin, Coarse, Cometdebris, Daniel Fleres, DKE Toys, Doktor A, Dudebox, ESC Toy, Ferg, FrankenFactory (Shea Brittain), Freak Store, Fuller Designs, Healeymade, Hollow Threat (Paul Shih), HollowShells, Ilanena, Jay222, JC Rivera, Jon-Paul Kaiser, Junko Mizuno, K.olin tribu, Kidrobot, Konatsu, Lou Pimentel, Lunartik (Matt JOnes), Max Toy Co., Mikie Graham, Mimoco, Monster Worship, MonsterPants, Motorbot, October Toys, Okedoki, Peter Kato, Proyecto Ensamble, Rampage Toys, Red Mutuca Studio (Sergio Mancini, Luihz Unreal & Igor Ventura), RESTORE, Ryan the Wheelbarrow, Scott Tolleson, Shadoe Delgado, SpankyStokes, Splurrt, Squibbles INK + Rotofugi, Super7, T9G, Tenacious Toys, tokidoki, Tomenosuke, Toy2R, Toy Tokyo, Triclops Studio, Unbox Industries, Velocitron, Voltaire, VTSS, Winson Classicreations and many more!
These are available right now in the Clutter Magazine online shop!
Please note: Limit one bag per customer. Please note that quantities are extremely limited and allocations may occur. Lucky Bags will not ship until after October 15th.
Similar posts
Tuesday, February 13, 2018 - 6:39pm

Nominations are officially open for the 8th annual Designer Toy Awards!