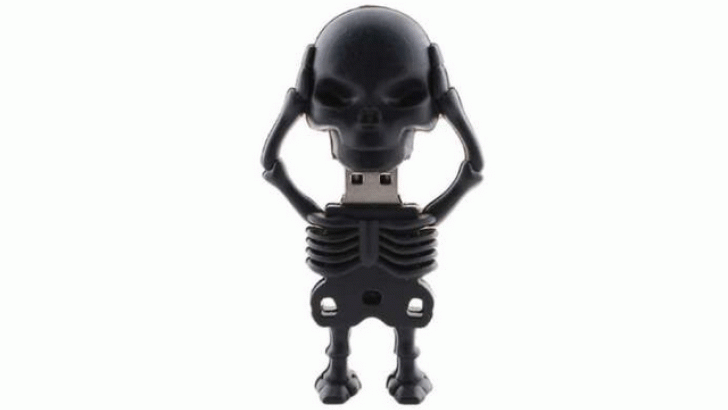 USBGeek's Skeleton USB Flash Drive will take your information to the grave. Not only that, he'll remove his own skull so you can connect him to your computer. When the Skeleton USB Flash Drive is plugged in he looks like he's chilling out with his skull in his hands. He's a skeleton - they do that kind of thing. The Skeleton USB is not just resting his bones & storing your information, he's holding the cover to the flash drive so you won't loose it. 
The Skeleton USB Flash Drive is 74 x 54 x22.5 mm and can hold up to 32GB of data. 
You can order The Skeleton USB Flash Drive at USBGeek's website.
[VIA]
Similar posts
Friday, March 29, 2013 - 5:31pm

David Nguyen and his uncle have made a prototype of the most awesome flash drive!

Monday, March 11, 2013 - 1:18pm

Adventure Time's BMO is pretty versatile. In addition to being Finn & Jake's game console, BMO serves as a roommate, friend, music player, alarm clock, flashlight, camera, video editor, strobe light, video player, portable electrical outlet and now a flash drive.