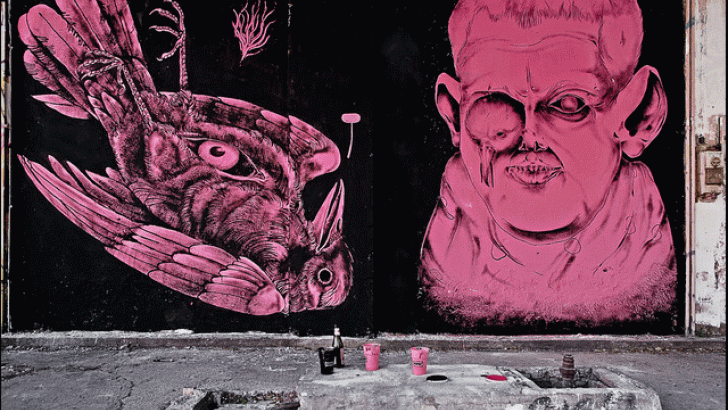 On November 13th Get Up Get Down will present Italian street artists James Kalinda & Centina for one night only at Power Lunches in London, UK. The exhibit marks  the release of 'Atroce,' a 96 page photobook that documents Kalinda's & Centina's exploration of abandoned buildings scattered about Europe. 
The murals featured in the book are destined to decay with the building that hosts them so 'Atroce' serves as a permanent record for these pieces. 
A small selection of original drawings, photographs and videos  will be on display as James Kalinda & Centina transform the basement of Power Lunches with installation-based works. This will be both  Kalinda & Centina's first ever exhibit in the UK.
'Atroce' is limited to 250 and will retail for about $24 USD and can be purchased here online. Limited edition artwork will be included with the first 25 copies purchased at the exhibit at Power Lunches. 'Atroce' is a one night only event, open 6-10 pm. 
Photos courtesy of Get Up Get Down, James Kalinda & Unurth. 
Similar posts
Tuesday, May 29, 2018 - 12:27am

The Clutter Gallery is proud to present an amazing group exhibition curated by street artist Chris RWK!  Artists Include:

Tuesday, May 16, 2017 - 10:35pm

kaNO returns to NYC and is making a BIG splash on the Lower East Side!