Posted by
Erica
November 12, 2012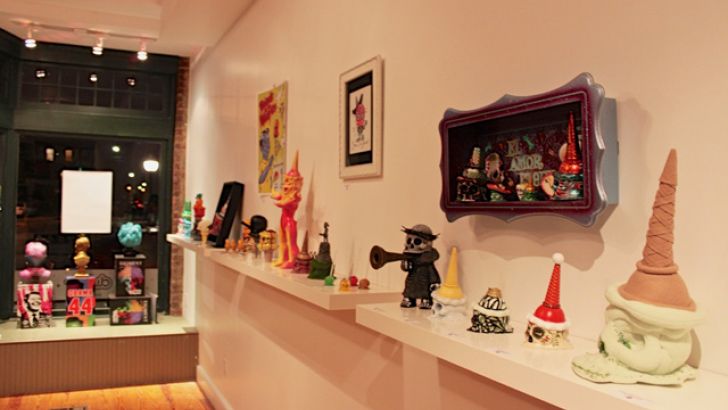 This past weekend saw the opening reception of the Clutter Magazine x Brutherford Industries Dia Del Helado Muerto: Ice Scream Man Custom Show. We partnered with Brutherford Industries to curate a show using the "Ice Scream Man" platform with a Día de los Muertos theme. The opening was held at The Clutter Gallery, located at 163 Main St. Beacon NY. We would like to thank all of the artists that participated and everyone who made it out to the show! 
Enjoy some photos from the event below. 
Ryan Rutherford of Brutherford Industries holding it down!
On the outside looking in. Poster designed by Tamara Petrosino.
There was lots of sweet Brutherford Industries merch available as well. 
This chick was even rocking Ice Scream Man Earrings! 
A photo of some awesome sugar skulls customized at the event! 
Jenny Zuko even made some Ice Scream Cupcakes! YES... Cupcakes in Ice Scream Cones! They were delicious! 
Artist's Included: Participating artists include: Angry Woebots, Brown Magic Paint Co., Brutherford, Carson Catlin, Danny Frankenstein, David Ayllon, DrilOne, Frank Mysterio, Grimsheep, J★RYU, JC Rivera, Josh Longo, Julie B. of Pretty in Plastic, Lana Crooks, Leecifer, Mark Nagata, Monsterarm, Plaseebo, Spanky Stokes, Trust Pigs, Voltaire and many more!
Works from the Día del Helado Muerto Show are available for purchase HERE.
Similar posts
Monday, September 3, 2018 - 10:02pm

The Clutter Gallery is proud to present an amazing solo spectacular from artist duo, Horrible Adorables! 

Monday, September 3, 2018 - 9:50pm

From the farthest reaches of Outer Space, beyond the Gum Gum Galaxy and the Nougat Nebula, lies a planet of Magical Sparkle Glitter. Once a year the inhabitants of the tinsel covered shiny wonder that is Planet Rainbow Sparkle invade the Clutter Gallery.