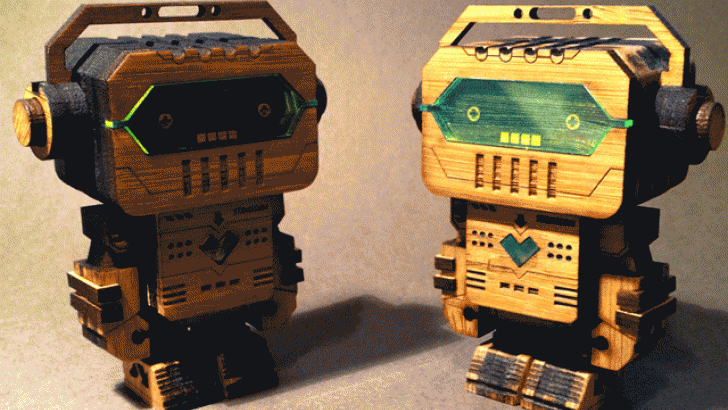 Junichi Tsuneoka of Stubborn Sideburn has dropped a couple of new creations recently. One is an awesome wood toy called "Robomatic" and the other is "Karakuri" a cool 3D puzzle/ dogtag neckchain. Lets start with "Robomatic". Robomatic is an engraved, laser cut bamboo wood toy with a little bit of acrylic board added. Junichi hand stained, sanded and assembled each Robomatic thus making them true individuals with their own personalities. Junichi created only 4 Robomatics and they retail for $50 each on Stubborn Sideburn's webstore. Only one Robomatic per customer. 
Next we have "Karakuri", Junichi Tsuneoka's 3D puzzle/dog-tag neckchain. I haven't seen anything like this before and it's pretty damn cool. Karakuri consists of 3 acrylic layers held together with magnets so you can see the inside. It's about the size of a Zippo lighter and is available in 3 color ways; Green, blue & orange. Karakuri arrives in it's own tin box & retails for $35. Again, only one per customer. You can pick yours up right here on Stubborn Sideburn's webstore. 
Similar posts
Friday, February 26, 2016 - 5:00pm

Rock and Pebble, a sub-brand of Mr. Printables, makes adorable wooden houses, building blocks, and other toys for kids. But some of their pieces are so cute that I wouldn't blame an adult designer toy fan for grabbing some of them.