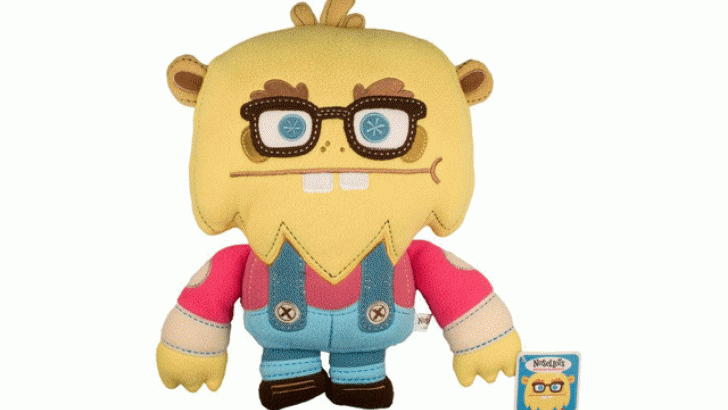 Scott Tolleson and Screaming Sky Gallery are completing their Nosellot series with "Jedidiah McDoogle". Jedidiah is Francis' best friend and is the fifth and final character in the Nosellot crew. He's also available in two different colorways - orange and yellow. The first colorway finds an orange "Jed" in green overalls and a tan shirt. The second colorway, a limited edition yellow version, has Jed wearing blue overalls and a pink shirt. Of course they are both sporting their glasses and looking cute. Remember, the yellow colorway is a limited edition and once he is sold out he will be gone forever! Jedidiah McDoogle measures 11.5" tall and is made with heavy fleece materials. Both colorways retail for $25 and can be purchased at Screaming Sky Gallery's webstore. 
"Mr Jedidiah McDoogle, Jed for short, towers over all the Noselots of Argyle Sky. He left his people, the Knowsanots, to find a happier, more intelligent crew. Now he is best buds with Francis, the tiniest Nosellot and they are rarely seen apart. Of course, he still resembles his Knowsanot ancestors, sporting a brutish body frame and randomly missing teeth. However, unlike his ancestors, Jedidiah is equipped with incredible problem solving skills. He loves to play sports and do the heavy lifting for his Nosellot buddies. Plus, he is the most willing taster of Sayjo's culinary creations. You might think he looks a little scary due to his size, but don't worry, he's harmless and just deep in thought. He is often trying to solve problems like reorganizing the city or adding tasty ingredients to Sayjo's famous baked goods."
Similar posts
Friday, January 13, 2017 - 9:24am

Scott Tolleson and Kidrobot have teamed together again-this time it's the Labbit platform that's getting the argyle treatment!

Friday, November 4, 2016 - 3:40pm

You probably don't need much convincing to go to DCON this year, but just in case you do, check out the preview for the Toy Within a Toy exhibition organized by Broke Piggy.