Posted by
Erica
January 14, 2013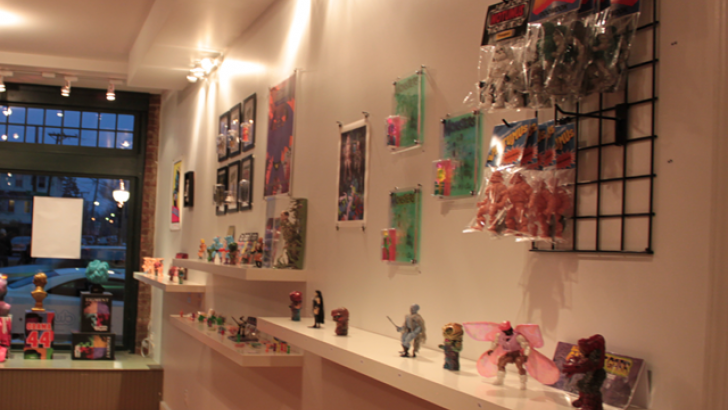 Saturday night saw the (In)Action Figure Show held at the Clutter Gallery in Beacon N.Y. The opening was filled with awesome people checking out the amazing figures the show offered. Many of the artists were in attendance giving guests tons of interesting details and information on their pieces. Below you will find a photo recap of all the action that went down during the Clutter Magazine (In)Action Figure Show. 
The Super Sucklord caught the train to Beacon to attend the show and to sign the awesome "Suckadelic Suckpax" Prints. Each print has been signed and numbered and pink paint splattered by The Sucklord! Prints are available HERE!
Here we have Ron English, Monster Pants and the Sucklord chatting about their pieces in the show. 
Peter, aka Killer Bootlegs, strikes a post infront of his hanging "Frankenfett" pieces.
Thank you to all who came out to the
Clutter Magazine (In)Action Figure Show
this weekend! We had loads of fun, and we hope to see you at next months Clutter Gallery Exhibition!! Remaining pieces from the show are available
HERE
! 
xox
The Clutter Magazine Family
Similar posts
Monday, September 3, 2018 - 10:02pm

The Clutter Gallery is proud to present an amazing solo spectacular from artist duo, Horrible Adorables! 

Monday, September 3, 2018 - 9:50pm

From the farthest reaches of Outer Space, beyond the Gum Gum Galaxy and the Nougat Nebula, lies a planet of Magical Sparkle Glitter. Once a year the inhabitants of the tinsel covered shiny wonder that is Planet Rainbow Sparkle invade the Clutter Gallery.