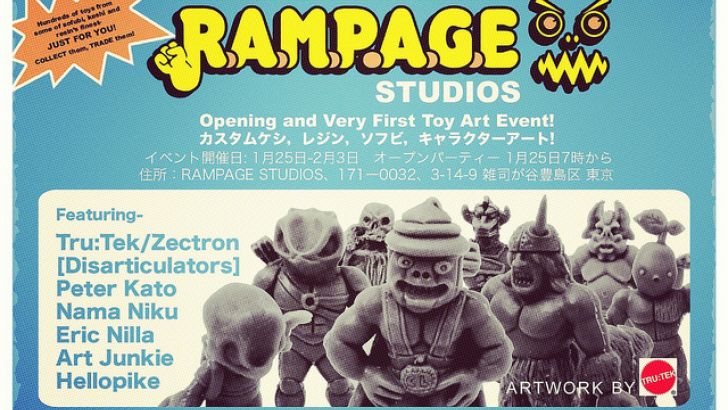 Rampage is dropping a total of 18 new mini-figures from 5 different series from both H.U.S.T.L.E. & The Disarticulators for the opening of the new Rampage Studios and show. The series are the Rampage Exclusive H.U.S.T.L.E. Artist Series Wave 1, The Tiny Terrors of the Deep XCommunicated 3 Pak, Break Fighters' Higekami: Master of Beard-Fu, Rampage Exclusive Masters of the Bootleg: KESH-E-FACE, & the Rampage Exclusive Critters: Wave 2. That's a lot of figures son! To top it off, Tru:Tek has also cast a batch of some of Rampage Toys' previous releases. The Tru:Tek cast mini-figures will be available from the Rampage Studios gachapon machine - just like in the supermarket! Check out Rampage Toys's website for pricing and availablity. 
Similar posts
Thursday, October 17, 2019 - 10:23am

Yamaraja is the latest super detailed creation from the dark and twisted mind of American Gross.

Sunday, September 29, 2019 - 1:44am

From the twisted imagination of Japan's own Tokyo Jesus comes the Oni-Tayū (太夫) -  a high ranking Oiran with a dark secret.